1-800-ADOPTION
Thank you for viewing our profile
If you would like to learn more about us, please call 1-800-ADOPTION (2367846), fill out the form at the bottom of our on-line profile page, or email us at bp_information@americanadoptions.com.
To revisit our on-line profile page and view our profile video at American Adoptions, simply use your mobile phone to scan the QR code on the right. We are looking forward to hearing from you!
Adrian & Wendy
Ready to open our hearts and home to a beautiful child. We're a fun, loving couple looking to expand our family through the gift of adoption. Our love for life and family is undeniable, and we would be so honored if you took the time to consider us as your adoptive parents.
About Us
Job
Firefighter Engineer/Paramedic
Senior Data Analyst
Education
Fire Science
Bachelor's Degree in Mathematics
Relationship
Legally Married
What It Means to Become Parents
For us, becoming parents means altering our lives to make a future child our number one priority. We are so excited to show our future children our traditions and start new ones with them as well. We want to be able to pour all our love into a child and help guide them into becoming whoever they want to be in life.
One of the most rewarding parts of being a parent we look forward to is learning from our children while they learn from us. We know it's not a one-way street and our children will teach us more about ourselves and how to grow as parents while we work to teach them to walk, talk, and educate them on the things that help them grow.
We love our current life together, but also look forward to playing with bubbles during bath times and even look forward to deciding who is going to change the next diaper because it all means we are a family growing and loving life together.
Our Favorite Vacation Spot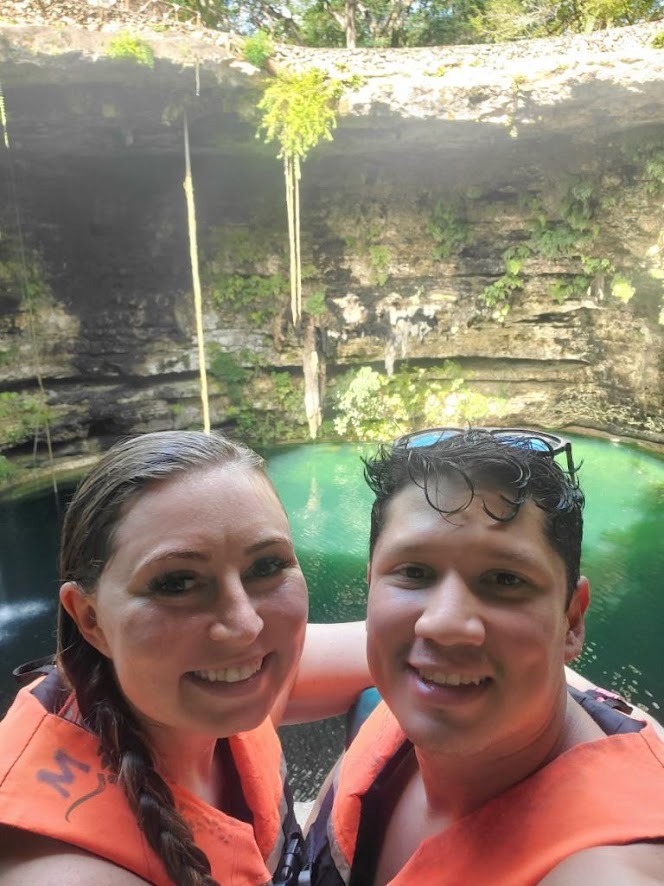 Our favorite vacations are the ones where we get to sit on the beach and read a book beside each other. Our go-to place to visit is Mexico! We love to be able to visit some of Adrian's family in Mexico, visit the family ranch, explore more of Adrian's Mexican culture, enjoy amazing food, and soak up some sun on the beaches.
Since we are big foodies, we love the endless, amazing food we can enjoy all over Mexico. On our most recent visit, Adrian even befriended one of the chefs at a local restaurant. The chef made one of Adrian's favorite childhood dishes. When we aren't eating we are found riding around on horseback, visiting with family, or just relaxing on the beach.
Whenever we become parents we look forward to taking our future child to Mexico to introduce them to all the amazing adventures it holds for us.
Our Pups, Copper & Hawk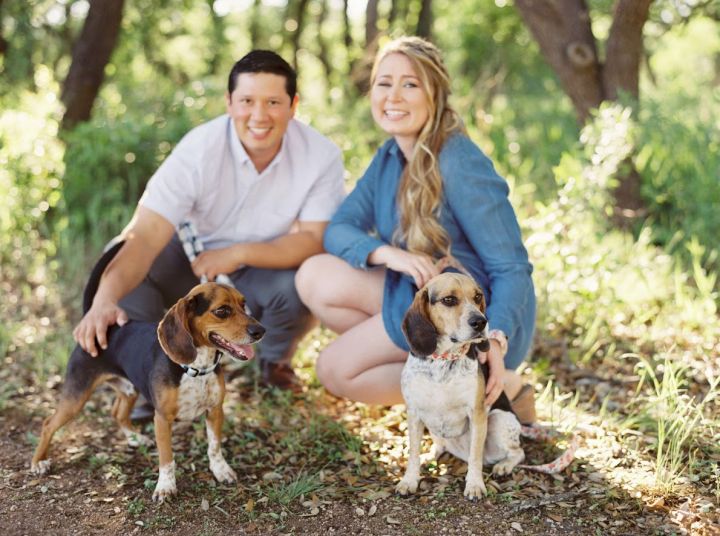 Our two dogs are an incredible part of our family. We have two beagle dogs (think of Snoopy) that are the happiest and most loving dogs. Hawk our oldest we got when she was just a puppy and taught us to be patient and caring. When Hawk was about a year old we added Copper to our family after we found him wandering our neighborhood. After trying for a few months to find his original family we decided he was already a part of ours. Copper has had quite the medical journey battling an autoimmune disorder and now the occasional seizure. However, you would never be able to tell as both dogs are ready to chow down a steak or go for a run at any moment. Copper and Hawk love to visit parks but for very different reasons. Copper can be found walking the perimeter to take in all the smells (he's always on the lookout for deer he can track), while Hawk can play fetch for hours and never get tired. Adrian also calls Hawk his little otter because she loves to swim! She will even go diving for rocks that you've skipped across the river or chase after the occasion fish that swims by. Our dogs are our fur babies and we've been working with them in preparation for a future baby so they know how much love to give without being too much.
Photos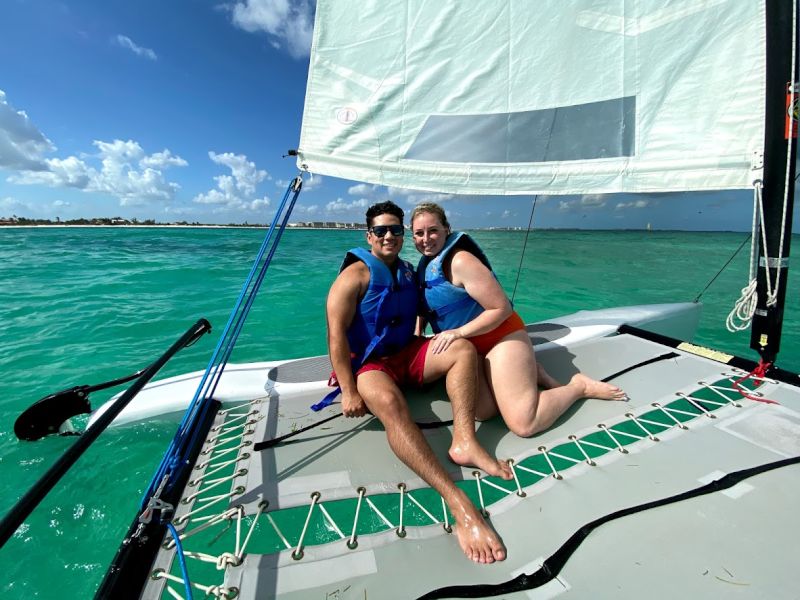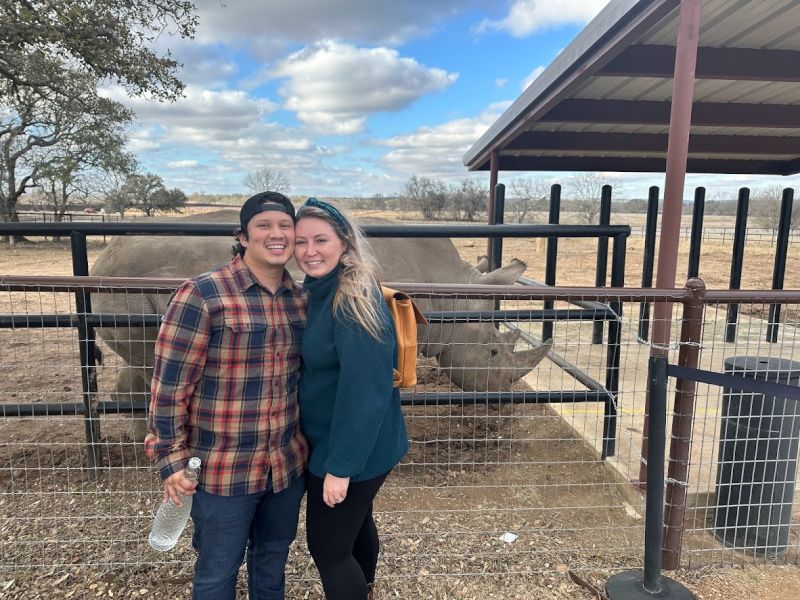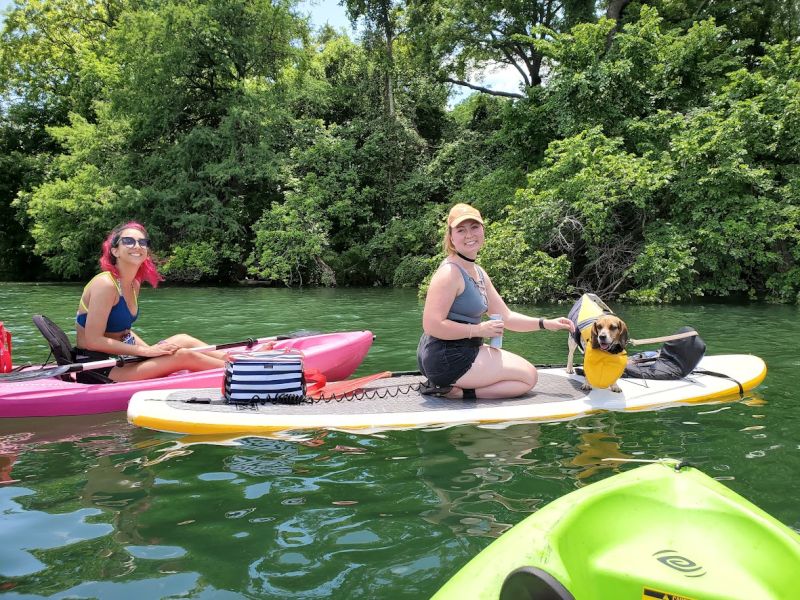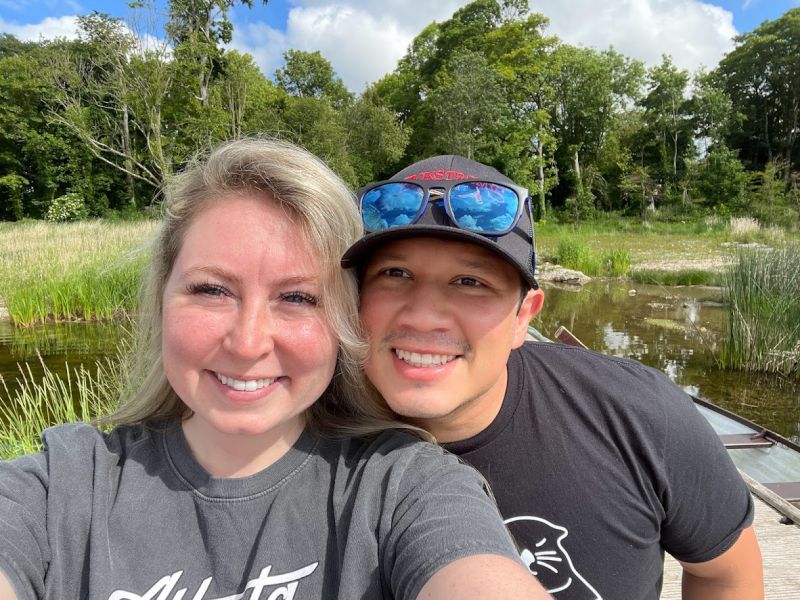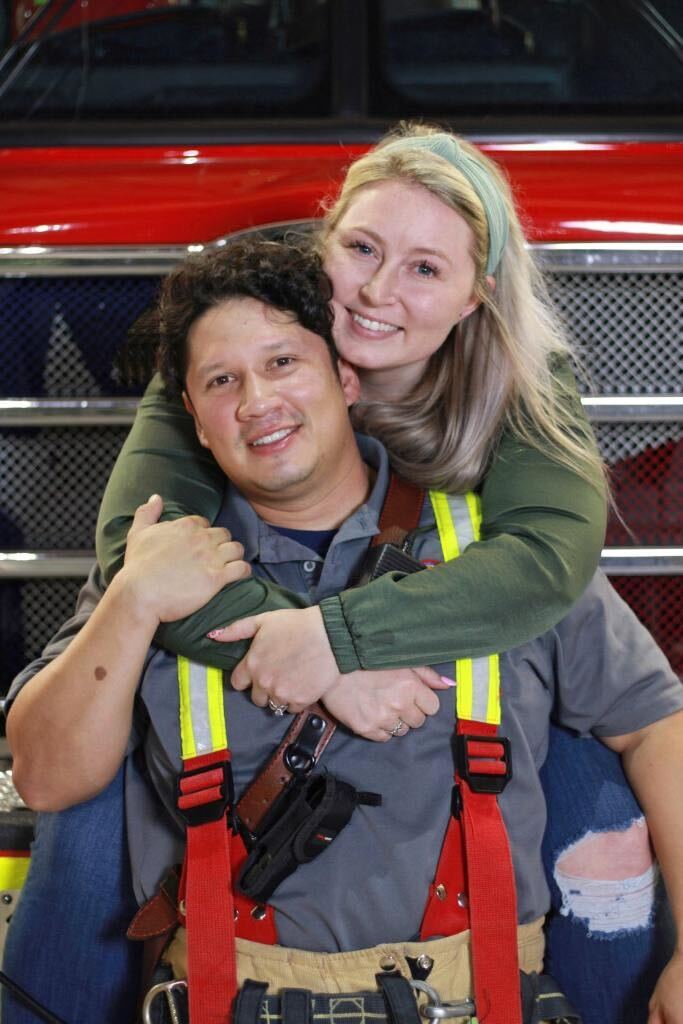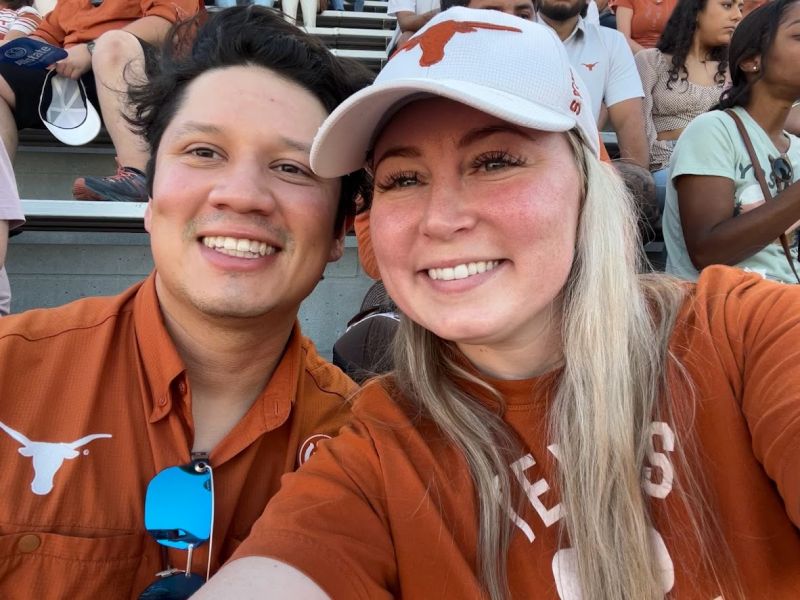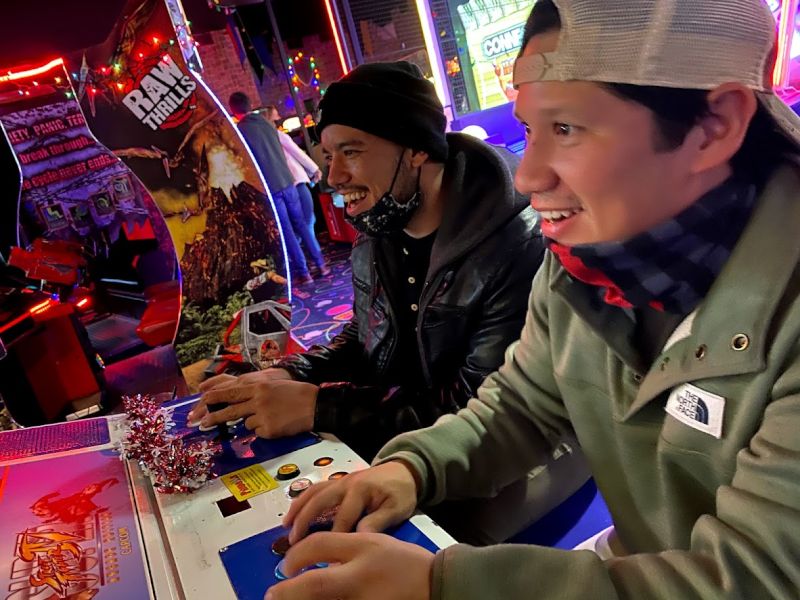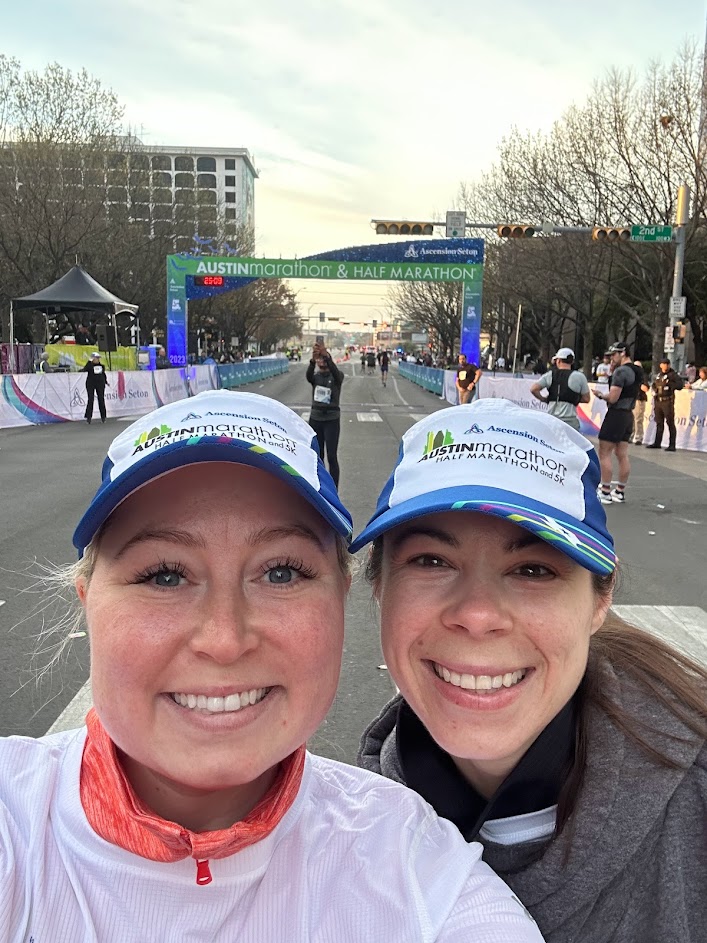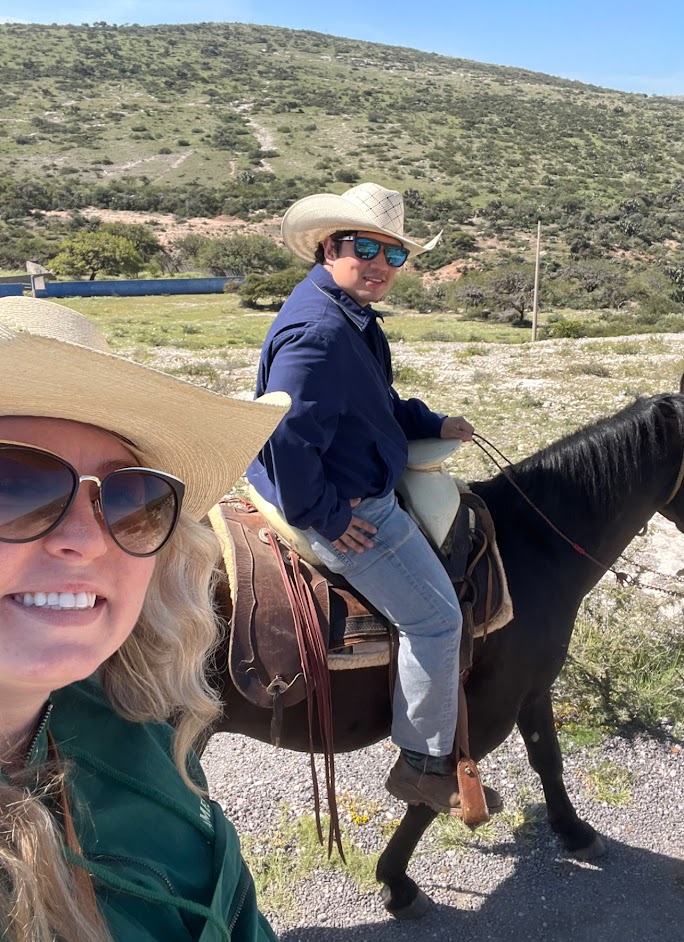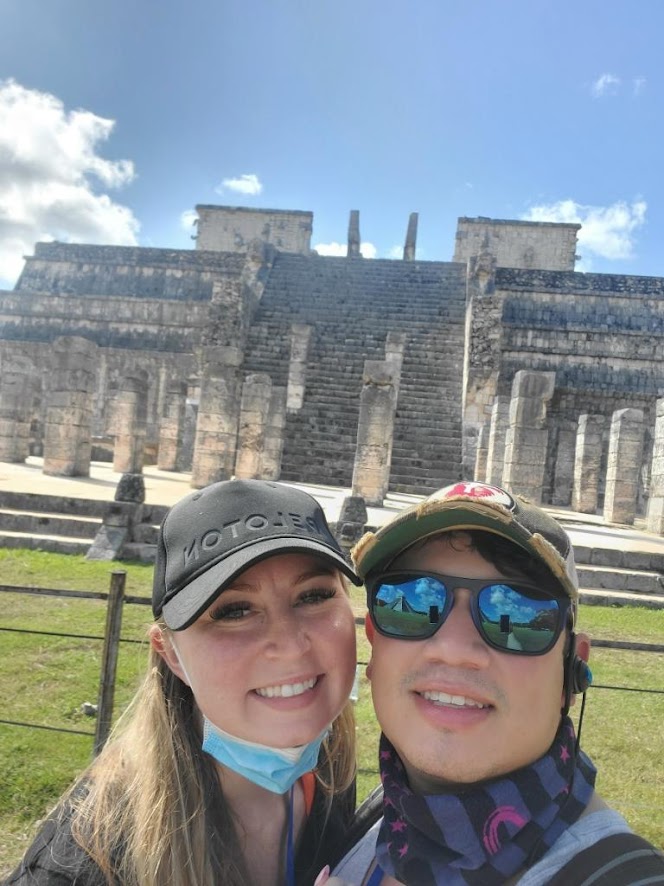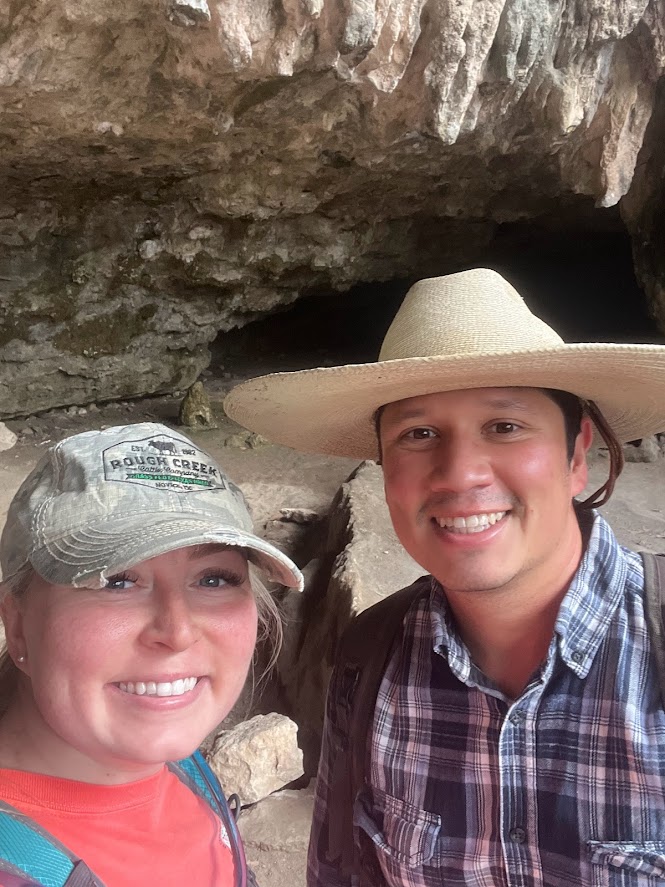 ×
1 / 12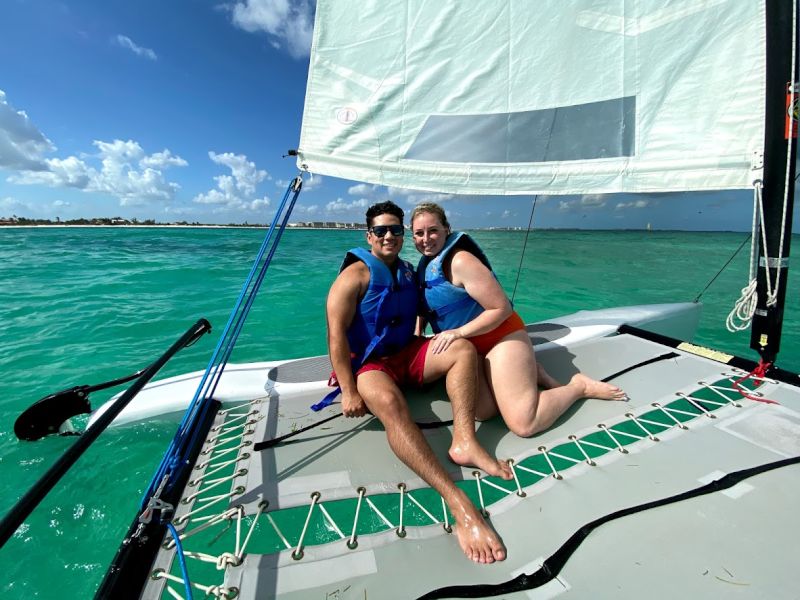 2 / 12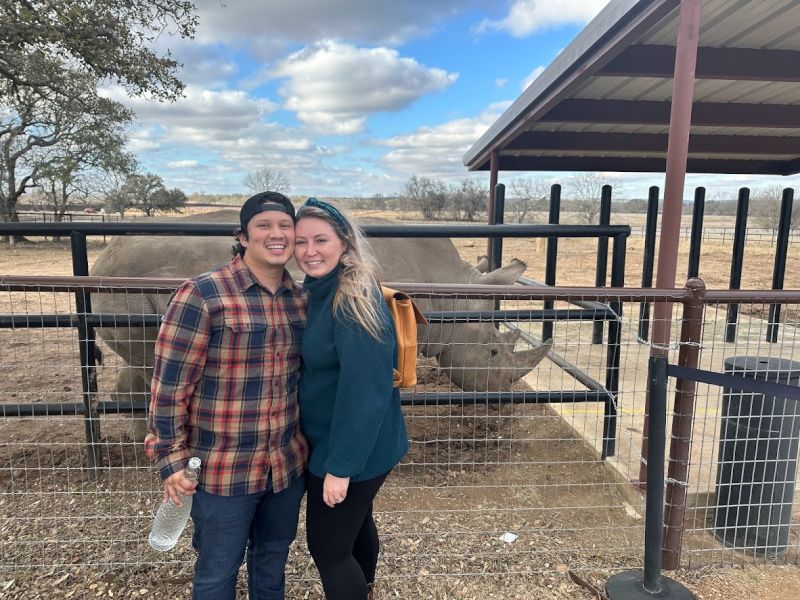 3 / 12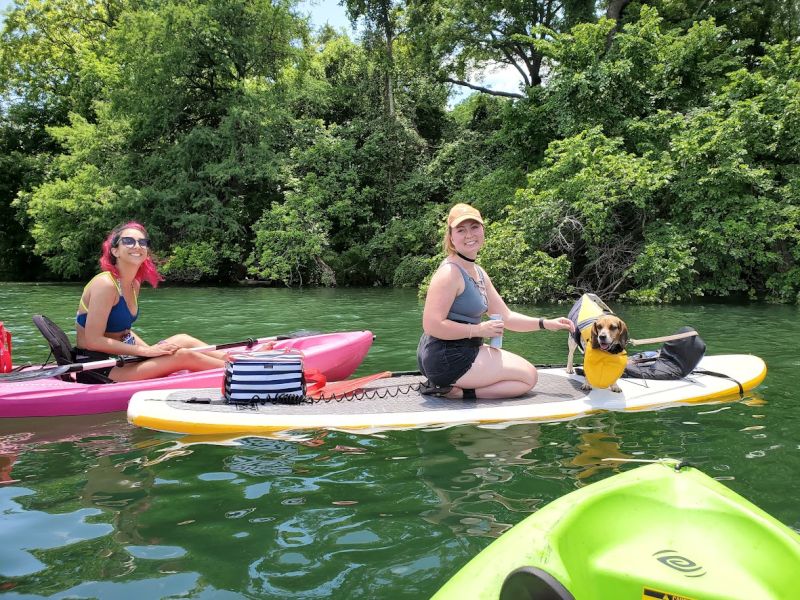 4 / 12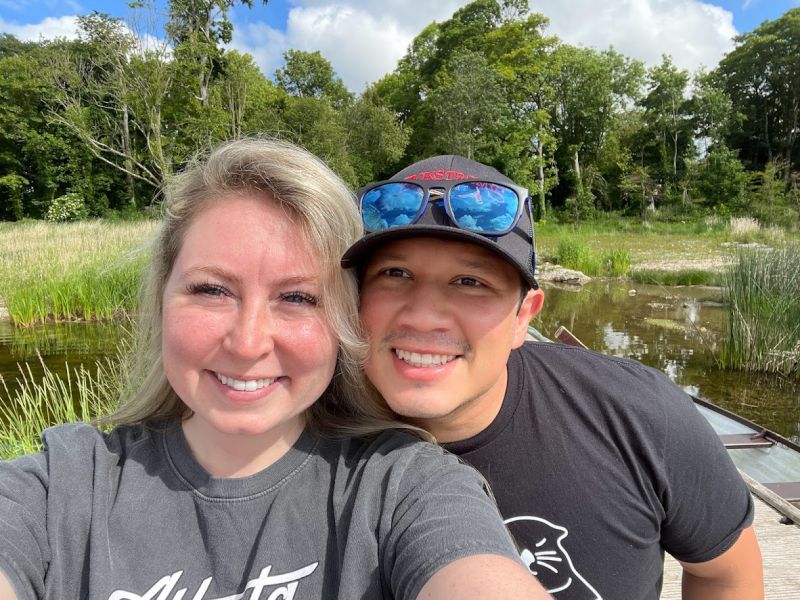 5 / 12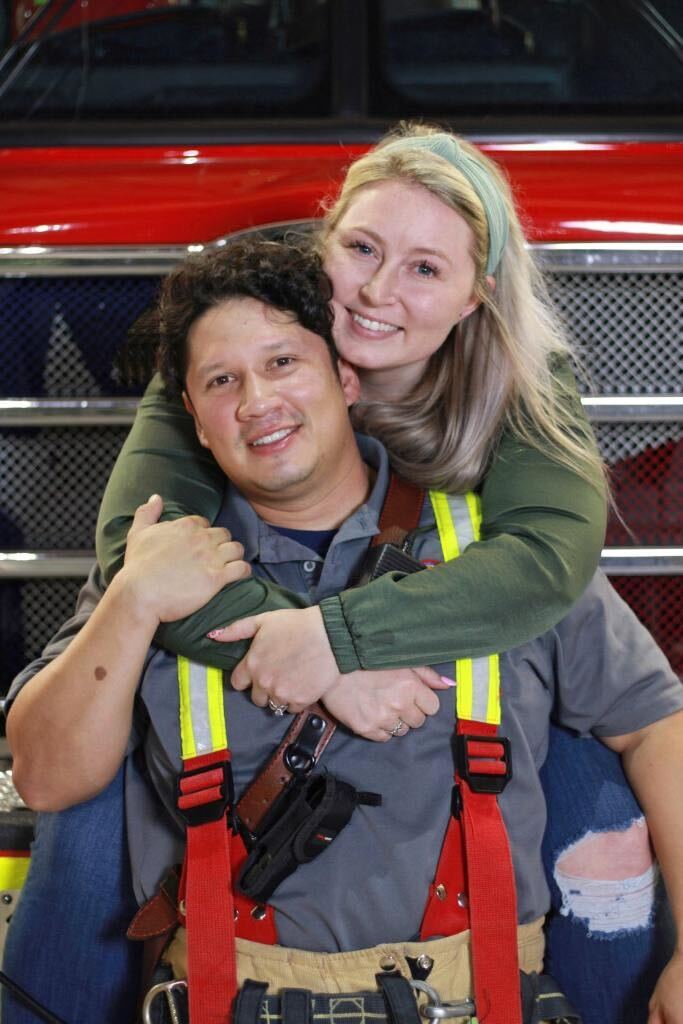 6 / 12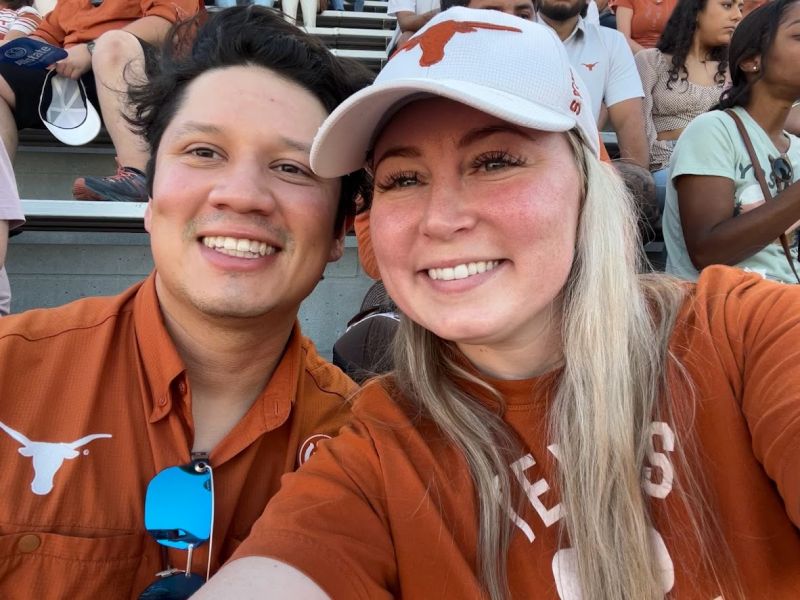 7 / 12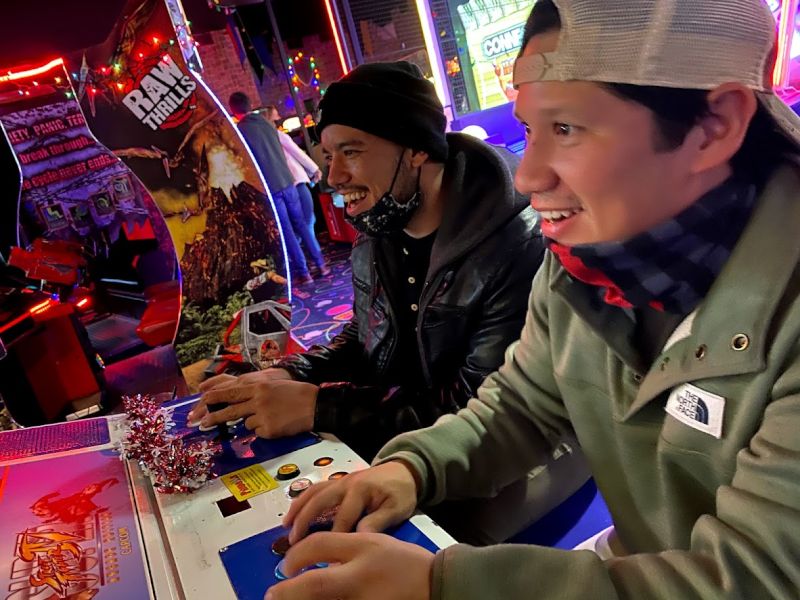 8 / 12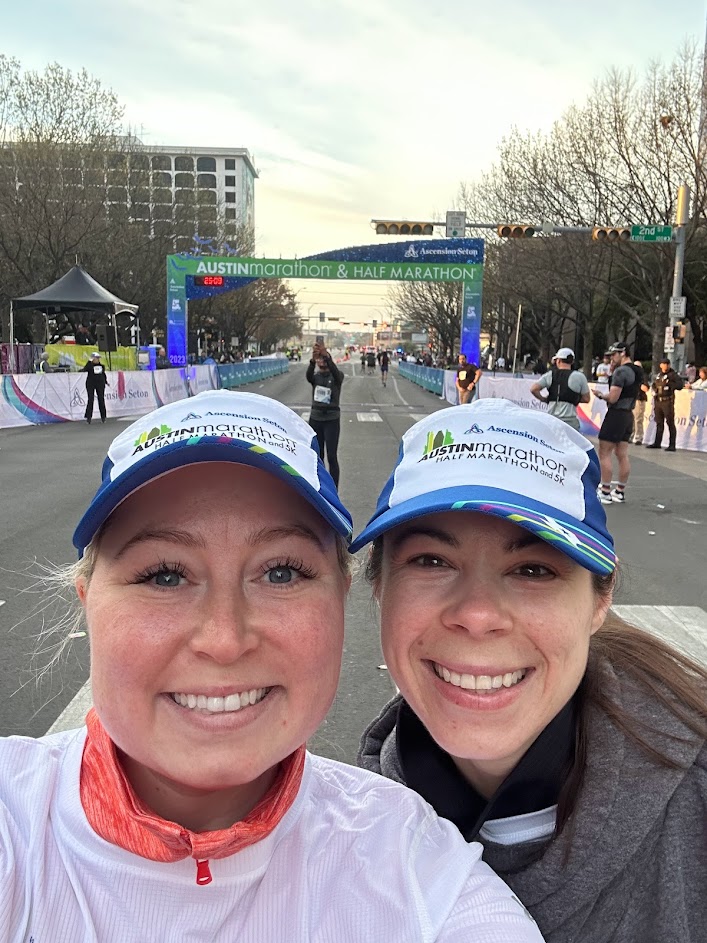 9 / 12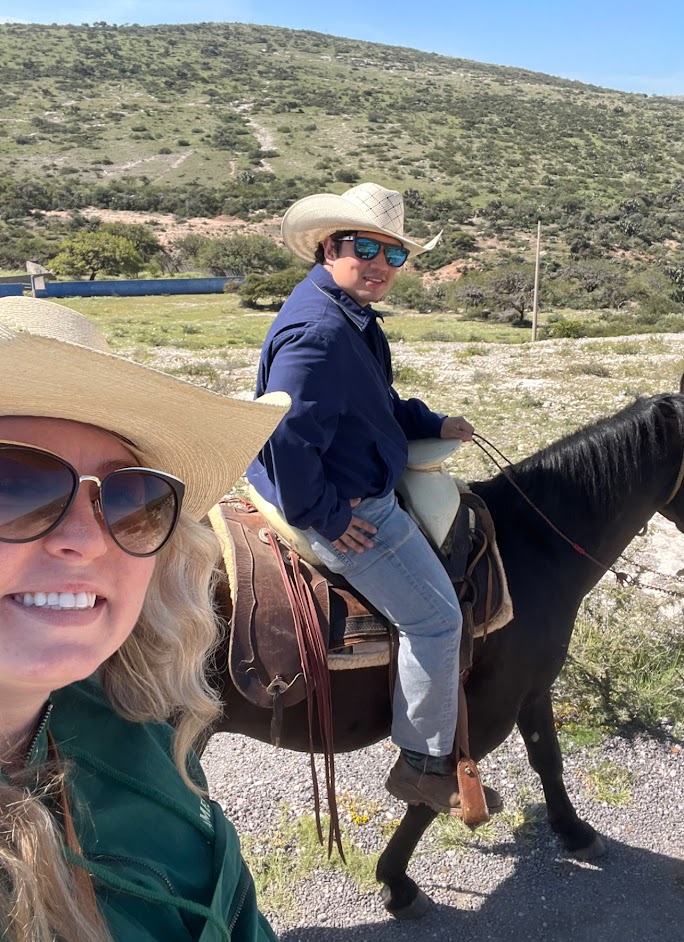 10 / 12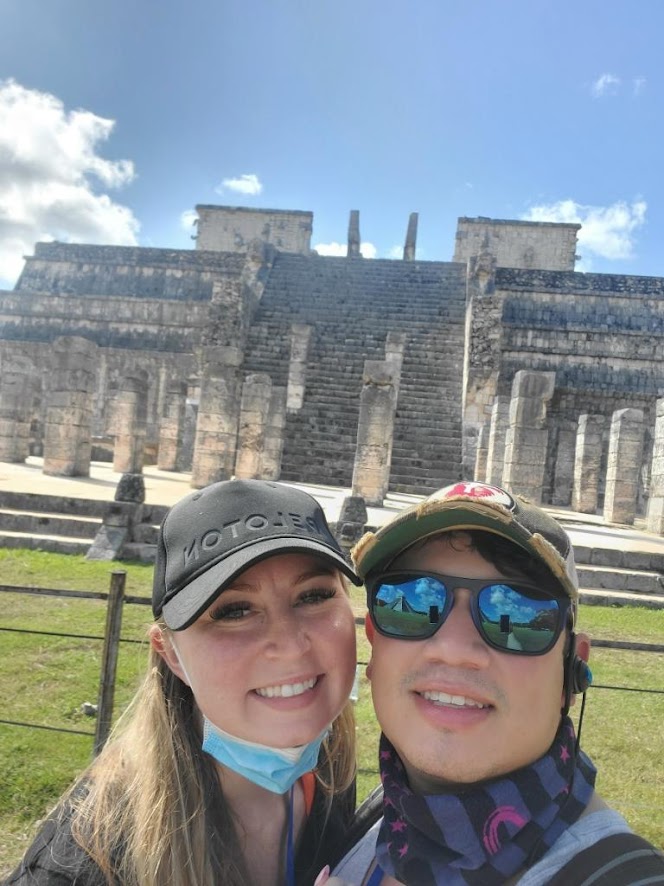 11 / 12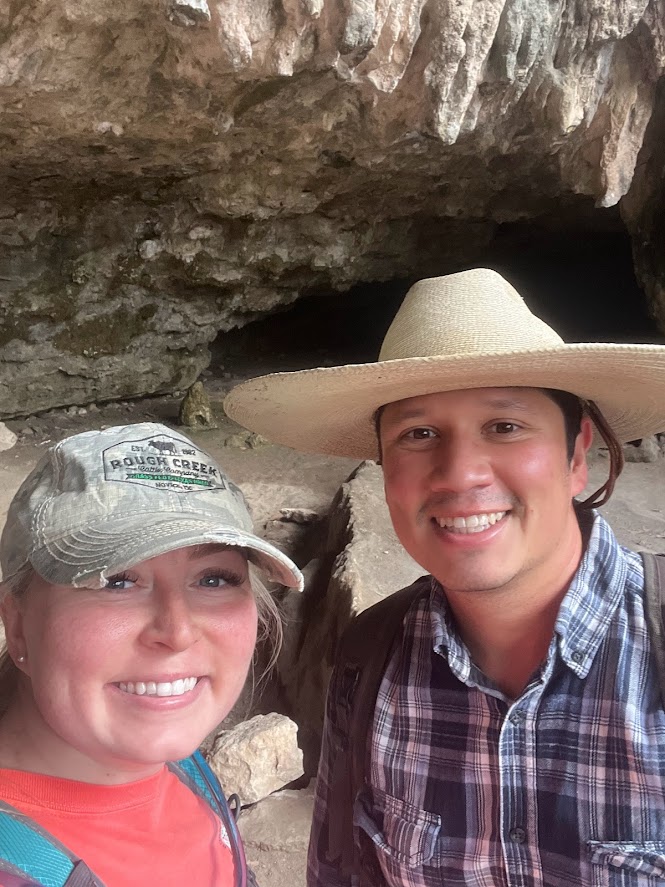 12 / 12
❮
❯
Our House and Neighborhood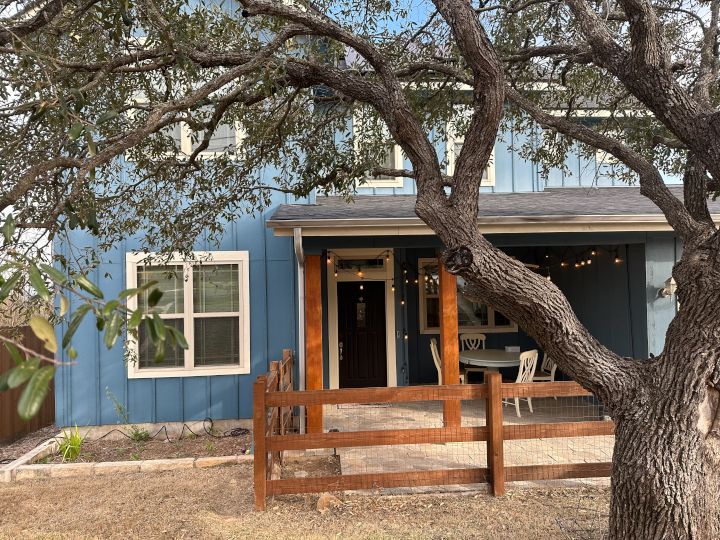 Our house really stood out to us when shopping for a home due to the charming neighborhood and stunning views from its location on top of a hill. When you look out the windows or patio view you see so many trees and a full 180-degree view of the skyline. We have a two-story 3 bedroom house that we've really made into our dream home. Our favorite room in our house would have to be the kitchen, it's the center of all things going on. You can randomly catch us dancing ridiculously in the kitchen while cooking or just finding a moment to steal for ourselves. During Spring and Fall, you can find us sitting on our front porch drinking coffee and just enjoying the kids of the neighborhood flying by on their bikes on their way to fish or swim in the neighborhood lake.
Our local park is an amazing gathering spot for our neighborhood that hosts events for every holiday. Allowing us to catch up with old neighbors and get to know the new ones. We love to soak up all the amenities of the park during the Summer with our family and friends. We host about two gatherings during the summer where we barbecue, swim, fish, kayak, and just enjoy the company altogether.
Our Extended Families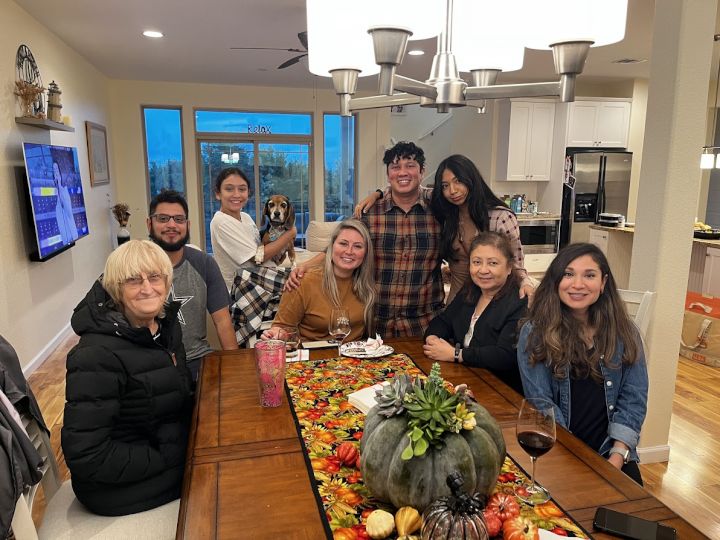 Family is incredibly important to us whether it be our immediate family or our chosen family through amazing friends.
Closest to us is Wendy's Mom, Elaine, who lives close by and eagerly waits to babysit and spoil any future grandchildren. Elaine is now retired but is involved in the local church and also does lots of crafting in her free time.
We are also blessed to have a very close Fire Family which is our family through Adrian's work as a firefighter. The closest of our Fire Family are our friends Raymond and Buffy who have 4 kids of their own we regularly join them for graduations/games/weddings/vacations.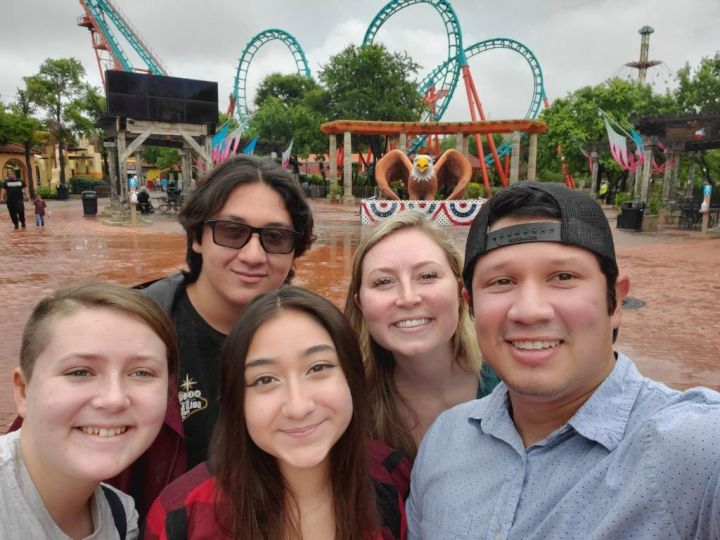 Another crucial piece to our family is Craig and Kirstin who have a toddler that we regularly visit for much-needed board game nights. Game nights get pretty exciting and we usually all end up laughing to tears.
Since Adrian grew up close by, his parents, siblings and nieces, and nephew all live nearby and we get to see them for holidays and slumber parties. Our nieces and nephew come to visit during the summer months to go to water parks, zoos, and local swimming holes with us. We will usually end our family visits with a movie marathon or an epic night of Super Mario Brothers together.
All of our family is so excited to meet a future addition to the family!
From Us to You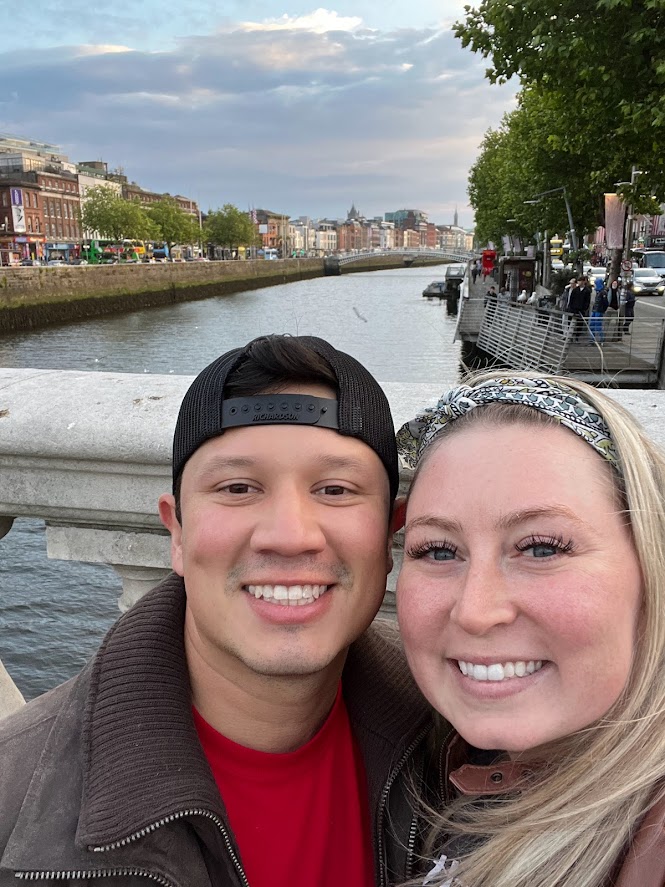 We are so thankful for you considering us as potential adoptive parents for your child. We hope that we can provide helpful insight into our lives so you can ensure to feel comfortable in your decision and envision your child in our family. We look forward to providing a warming, loving home for our future children. Our child's adoption journey will be a cherished memory that we will continue to talk about throughout their life.
We are an energetic family-focused couple that has been together for 8 wonderful years. Two of which we have been blissfully married. Most of our family and friends relate our relationship together as a romantic comedy because our lives are full of laughter and love. Adrian brings all his caring and patience to our family and helps us feel secure and always loved. He's our family's Superman. Wendy brings her fun-loving energy and makes each day an adventure full of smiles that we get to enjoy together. We love to tease her that she's the family's Disney Princess that could break out into song and dance at any moment.
We live in the suburbs of Austin, Texas. Far enough away to avoid the traffic but close enough to enjoy the occasional events. We live in our dream home that is within walking distance from the lake where we've shared so many amazing memories together. We love to go kayaking, take the dogs swimming, host family BBQs, and have an occasional fishing adventure all within our neighborhood full of young families. We are overjoyed to create new amazing memories as our family grows together. We have two adorable dogs that we've spoiled together. Our fur babies are smaller pups that enjoy snuggles on the couch and they would love to have a baby around to snuggle. Our family is incredibly precious to us. We are usually found playing Mario Cart or a board game together. We find it an important way to ensure we are connected with our family and make each other smile together.
We have an amazing family and friend group. Wendy's mom is so excited to become a grandmother that she's moved close by to help be a support group for us. Adrian's family is all local and are overjoyed to have another little one in the family amongst our six nieces and nephew. We have an incredibly strong group of friends through Adrian's work as a firefighter. We refer to them as our Fire Family. As a Fire Family, we come together to celebrate family birthdays, holidays, and any important life events which always bring us closer together.
We have a lot of love to offer a child and we are excited to have the opportunity to become parents. Adoption can be such a beautiful gift, yet an incredibly difficult one, and hope that we can share in providing that gift to a future child.
We are open to however much contact you would like to have with us through texts, calls, visits, letters, photos, etc. We want to ensure you feel comfortable in our journey together and provide you with any life updates from your baby. We respect and value your decision and are here to support you in any way we can.
Thank you for considering us as adoptive parents.
Adrian & Wendy
Favorites
Actor
Keanu Reeves
Hugh Jackman
Actress
Sigourney Weaver
Emma Watson
Author
J R R Tolkien
Leigh Bardugo
Book
Pillars of the Earth
Harry Potter Series
Candy Bar
Almond Joy
Payday
Cartoon
Scissor Seven
Justice League
Childhood Memory
Hanging out with cousins
Playing pretend school on my treehouse
Childhood Toy
Yellow bunny
Stuffed Dog
Children's Book
The Giving Tree
I Love You Forever
City
Cancun
Washington D.C.
Classic Movie
The Godfather
Arsenic and Old Lace
Day of Week
Sunday
Saturday
Dessert
Ice cream fudge sundae
Blackberry Cobbler
Dream Car
Shelby
Vintage Pickup Truck
Dream Job
Firefighter
Disney Princess
Dream Vacation
Sandy beaches with my family
Anywhere with a Beach
Family Activity
Cooking Together
Board Game Night
Flower / Plant
Orchids
Hibicus
Food
Chili Cheese Dogs
Seafood Pasta
Form of Exercise
Plyometrics
Cycling
Fruit
Watermelon
Strawberries
Game
Metal Gear/Final Fantasy 7
Parcheesi
Hobby
Working on the Jeep
Traveling
Holiday
Thanksgiving
Christmas
Holiday Song
All I Want For Christmas
It's Beginning to Look a Lot Like Christmas
Holiday Tradition
Having everyone together for Thanksgiving
Looking at Christmas Lights and picking out a live tree
Ice Cream
Cookies and Cream
Birthday Cake
Junk Food
Powdered donuts
Hot Cheetos
Leisure Activity
Reading
Reading
Magazine
Game Informer
Country Living
Memory with a Child
Board games with our nieces and nephew
Snow sledding with my sister
Memory with Spouse
Being goofy together
Weekend getaways with our dogs
Movie
Armageddon
You've Got Mail
Movie Munchie
Popcorn
Popcorn
Movie Quote
"The closer we are to danger, the farther we are from harm."
Happiness can be found, even in the darkest of times, if one only remembers to turn on the light.
Movie Type
Suspense
Fantasy
Musical
Hamilton
The Greatest Showman
Musical Group
Queen
Brooks and Dunn
Nursery Rhyme
The Itsy Bitsy Spider
Twinkle Twinkle Little Star
Olympic Event
Curling
Ice Skating
Personal Hero
My Fire Chief
My Husband
Play
The Count of Monte Cristo
Camelot
Poet
Joyner Lucas
Robert Frost
Quality about my Spouse
Ability for her to have an infinite amount of love
Determination and ability to always find the good in any situation
Quote
Get a job that supports your hobby
Not All Those Who Wander Are Lost
Restaurant
Guero's Tacos
Fixe Southern House
Sandwich
Club
Bacon and Peanut Butter
Scripture
"Greater love has no one than this, that one should lay down his life for his friend's."
Let all that you do be done in love 1 Corinthians 16:14
Shopping Store
Kohl's
Amazon
Song
I'll Make A Man Out Of You
My Front Porch Looking In
Sport to Play
Football
Soccer
Sport to Watch
Football
Football
Sports Star
Joe Frazier
Colt McCoy
Sports Team
Longhorns
Longhorns
Subject in School
English
Math
Thing to Cook
Brisket
Pasta
Time of Day
Breakfast Time
Dinner Time
Tradition
The 9/11 Stair Climb
Family Cookouts by the Lake
TV Show Character
Walter White
Chandler from Friends
Type of Music
90s Punk Rock
Country
Vacation Spot
Beach
Anywhere with a beach and family
Video Game
Metal Gear
Hogwarts Legacy
Get in Touch
Provide more information, so American Adoptions can connect you with this family.
---