1-800-ADOPTION
Thank you for viewing our profile
If you would like to learn more about us, please call 1-800-ADOPTION (2367846), fill out the form at the bottom of our on-line profile page, or email us at bp_information@americanadoptions.com.
To revisit our on-line profile page and view our profile video at American Adoptions, simply use your mobile phone to scan the QR code on the right. We are looking forward to hearing from you!
Kevin & Kelli
Family is a word we wondered if we would ever get to experience. And now that we have, it's a word we cherish. In those six letters we find lots of laughter, memories, support, guidance, and most importantly, love. It's what we've wanted most in this world and we know we're not done growing. So thank you for considering us, and if we're so lucky, we hope to welcome you in as part of our family, too.
About Us
Job
Video Art Director
Advertising Strategist
Education
Bachelor's Degree in Electronic Media
Bachelor's Degree in Journalism
Relationship
Legally Married
Adoption in Our Lives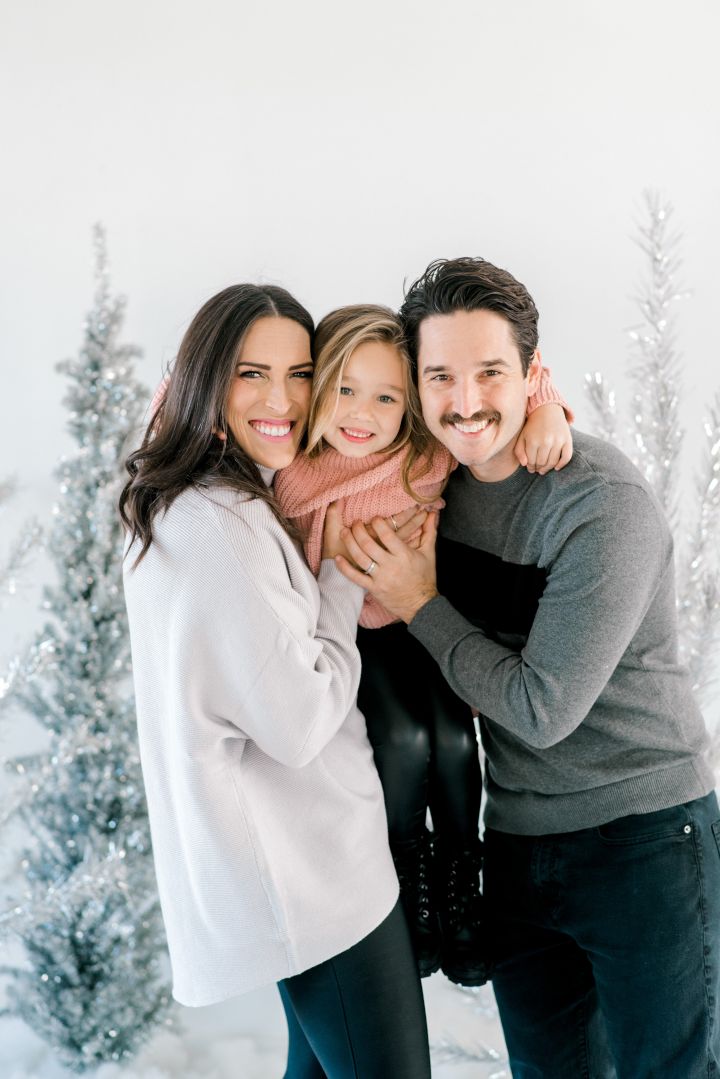 In 2017 our world changed forever when we adopted our beautiful daughter, Miller.
She stole our hearts from the first cry and continues to amaze us every day. Miller is one of the funniest kids we've ever met. She's also very independent, sassy, smart, caring, and boy does she know what she wants! Her favorite things in this world apart from mom and dad are her baby dolls. She takes them to their first day of school, gets them checkups at the doctor, and lovingly puts them to bed on every surface she can find around the house. It has been a joy getting to see her blossom in school this year, she is such a leader in her classroom and loves to learn and make new friends. Soccer and gymnastics also keep her busy throughout the week.
We had always planned for our daughter to know her story and that it was one to be proud of. What we didn't anticipate was how much our love extended to her birth family as well. We feel so lucky to have a wonderful relationship with Miller's birth family and loved getting to develop a relationship with them while we waited for her birth. From our time at sonograms, and hospital stays and recent visits to see them in Florida, our bond continues to strengthen and through that, we're able to develop memories that we'll share with her as she grows up. For our second child, we would love nothing more than to do the same and welcome more into our hearts and lives.
Our Leisure Time
We place a lot of value as a family on experiences. The moment we step away from our jobs we try to take advantage of the opportunity to find some fun by exploring local shops, museums, parks, and restaurants. Good ice cream and bar-b-que are always at the top of the list!
As much as we love to explore, we equally love the downtime we get at home. Kevin's perfect day includes working out with our gym family and getting some time with his PlayStation while Kelli savors a bath with a good book. We also spend a lot of time building forts and making houses out of blocks for Peppa Pig and her family to live in. They're a real hit in our house these days.
Kevin is so creative and uses that on the stage to perform improve comedy, although he doesn't find it very funny when Kelli makes a mess during her latest construction or renovation project in the house. Most recently the 4-month mess restoring a dollhouse for our daughter built by Kevin's grandpa and passed down to our family. The end result is always worth it, though!
Qualities We Love, Admire and Respect in Each Other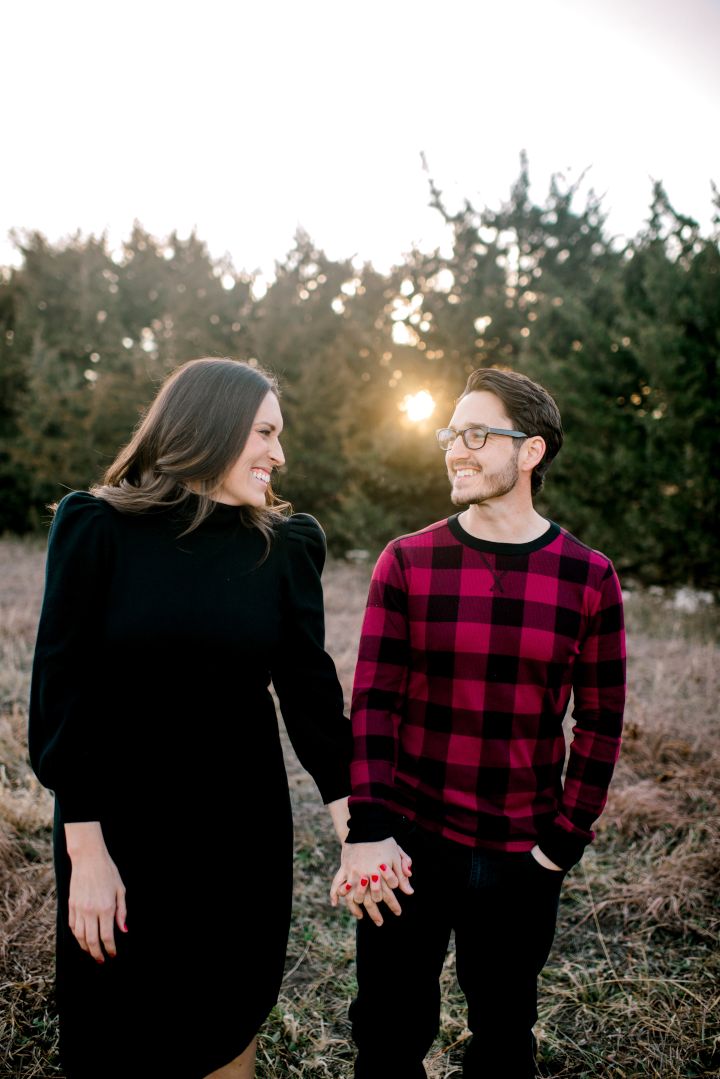 Kevin About Kelli: Whether it is as simple as a home improvement project or the goals she sets in her career, Kelli's drive and determination is with her every step of the way. She is the backbone of our family and takes so much pride in her role as a wife and mother. I admire so much the way she takes the time to be such a wonderful teacher to our daughter and looks at every moment as an opportunity to learn and grow. I'm always in awe of her intelligence, but what makes her so special is that she has the humor to match! Last but not least, Kelli is one of the most caring people I've ever met with such a heart of gold and is such a friend to everyone she meets.
Kelli About Kevin: Kevin's language is laughter. It's contagious and fills our house with so much happiness. Whether he's watching his favorite comedians and movies, or spending time with us, he gets so much joy out of everything he does. Pairing that with his kind, funny, loving, and patient personality makes him so much fun to be around. My heart melts daily as I get a front-row seat to him sharing that joy with our daughter. Some days it feels like our own private SNL performance featuring Daddy Dino (It's as awesome as it sounds!)
Photos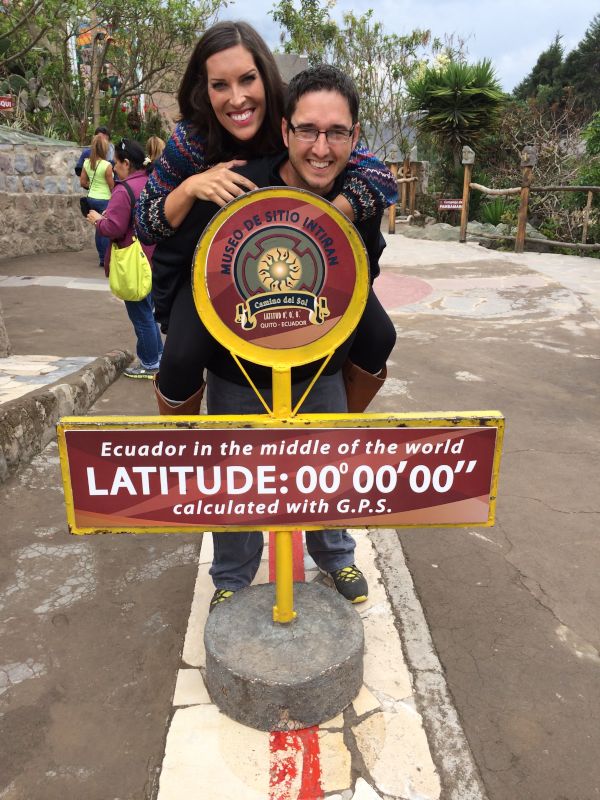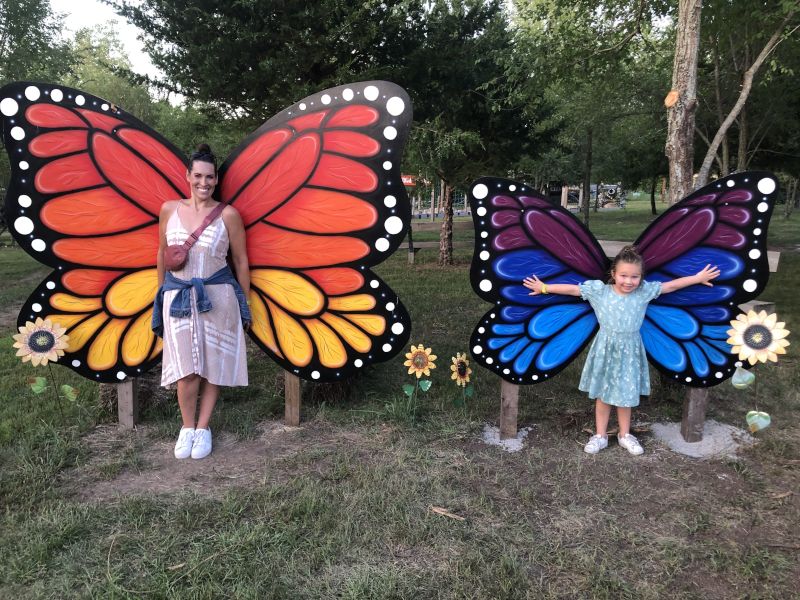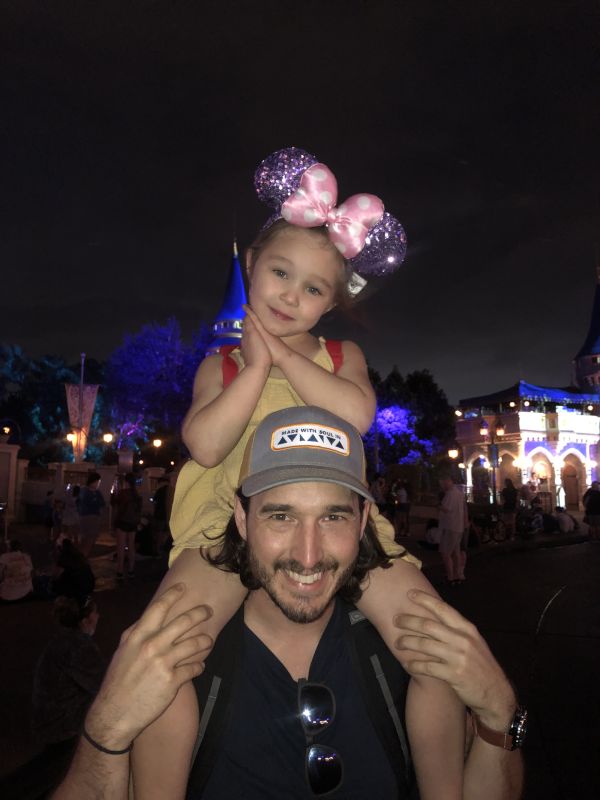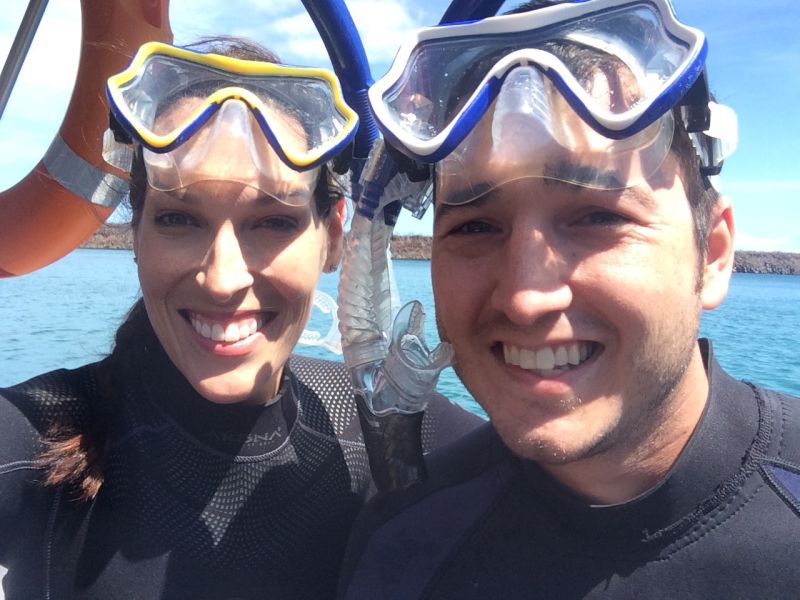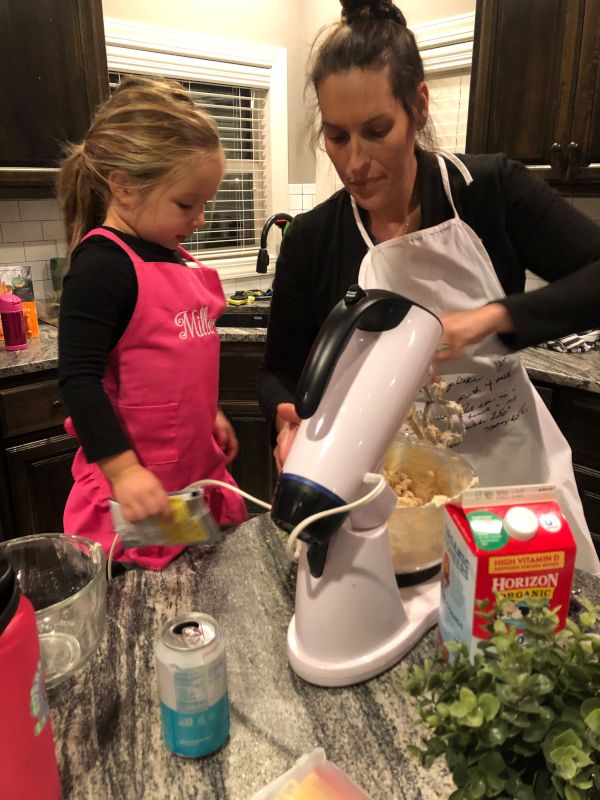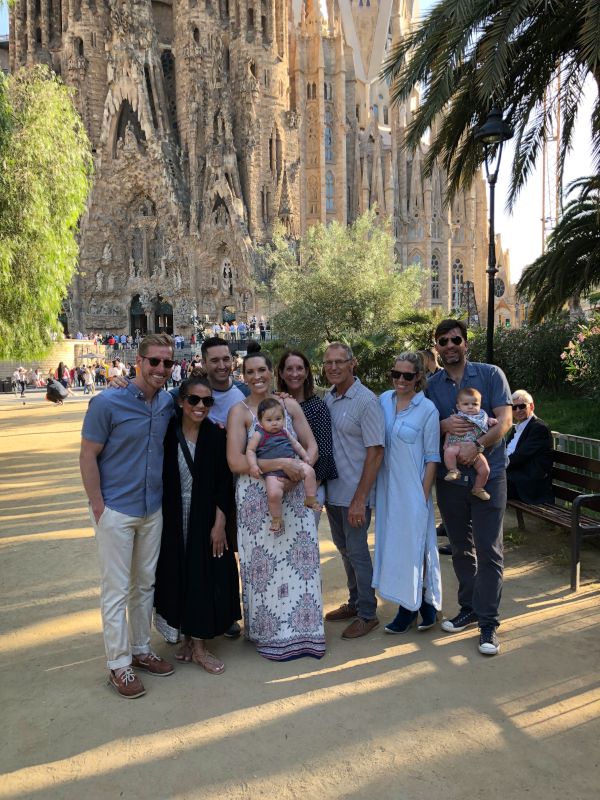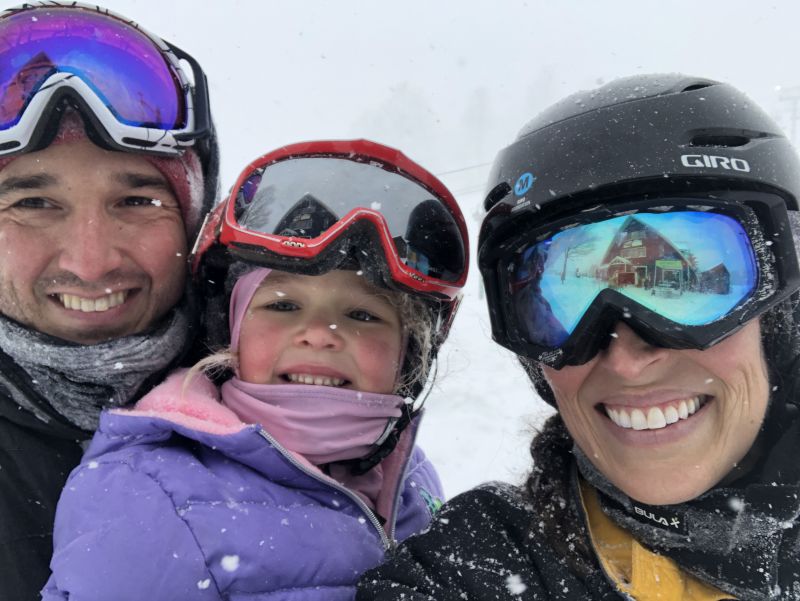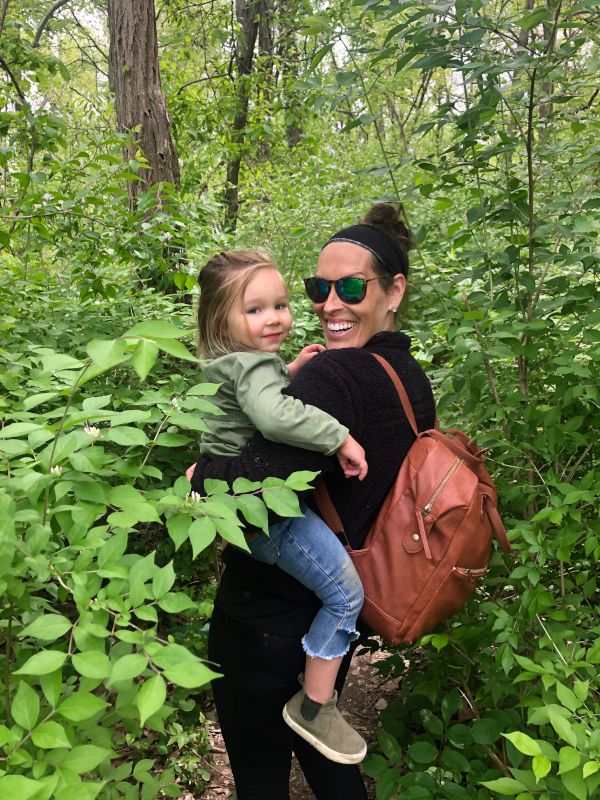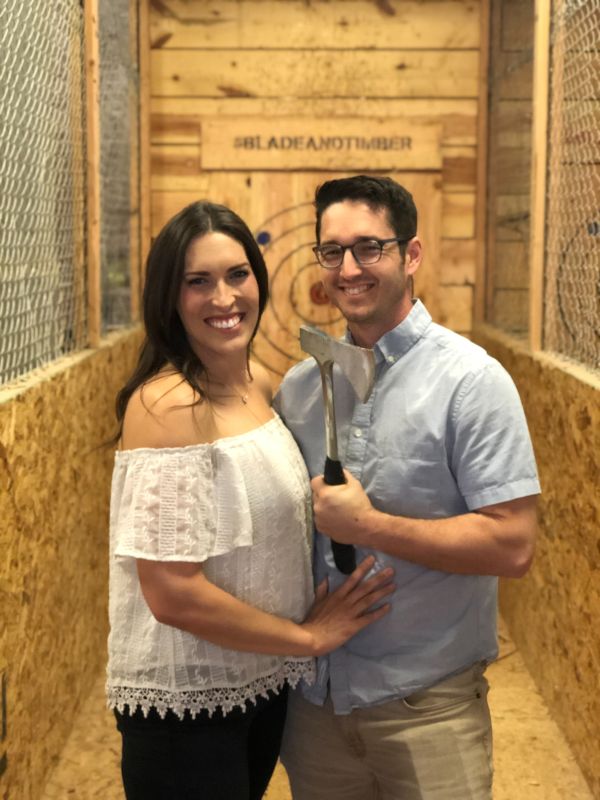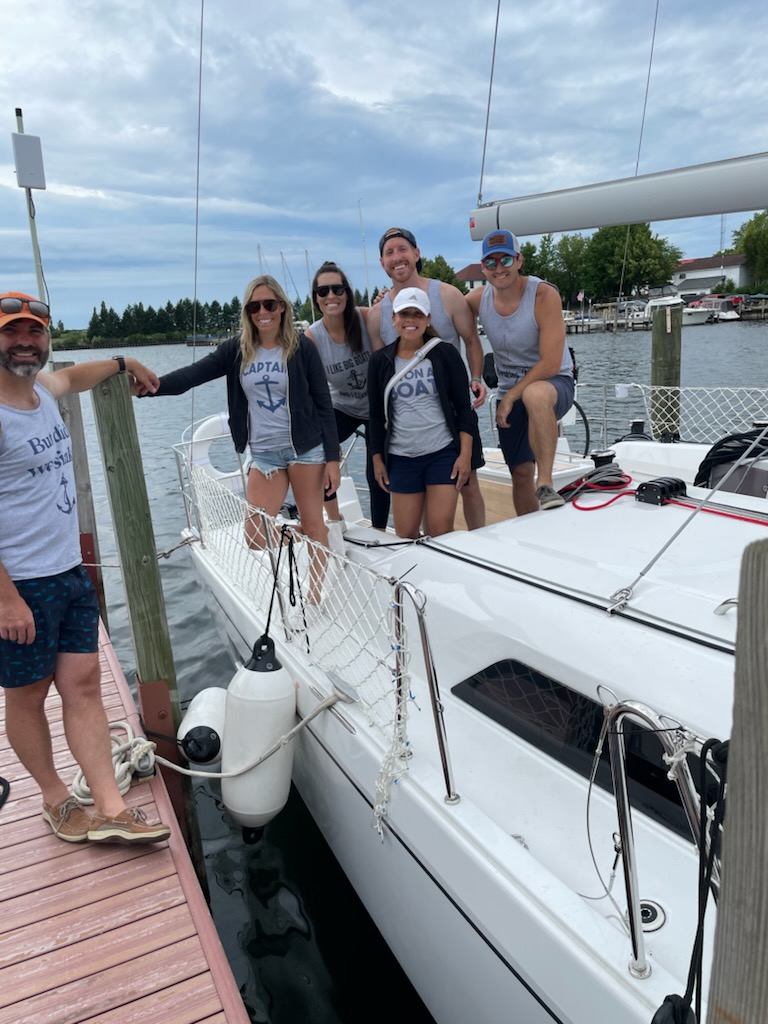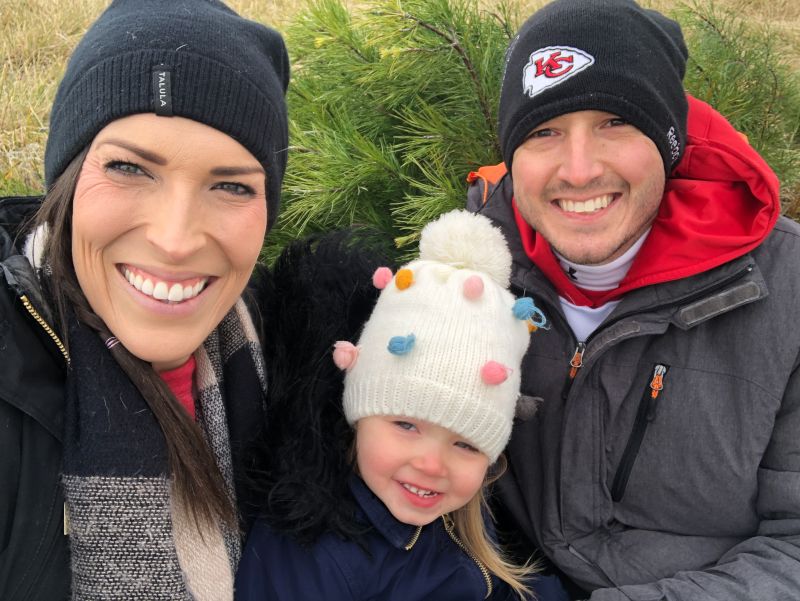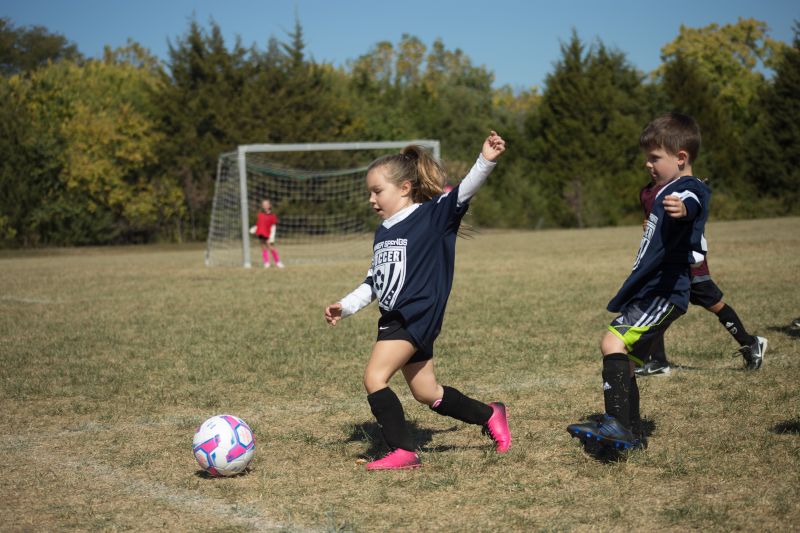 ×
1 / 12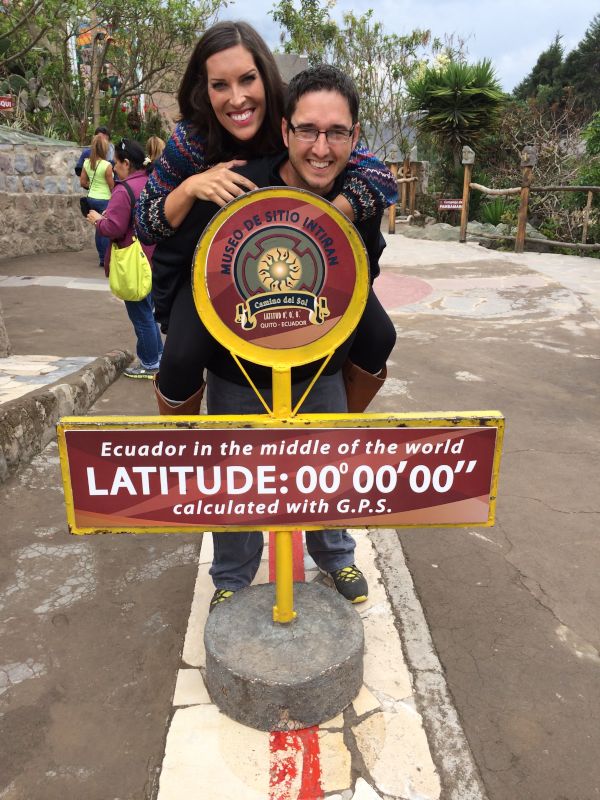 2 / 12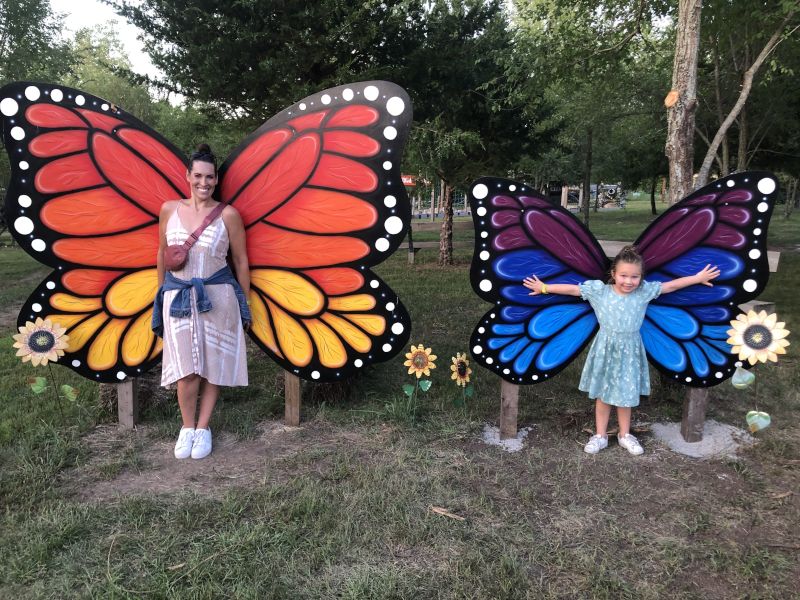 3 / 12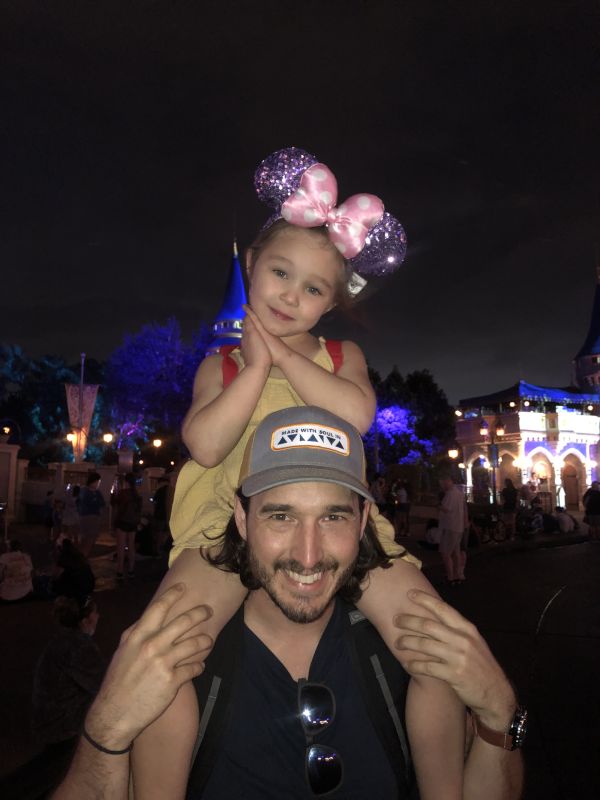 4 / 12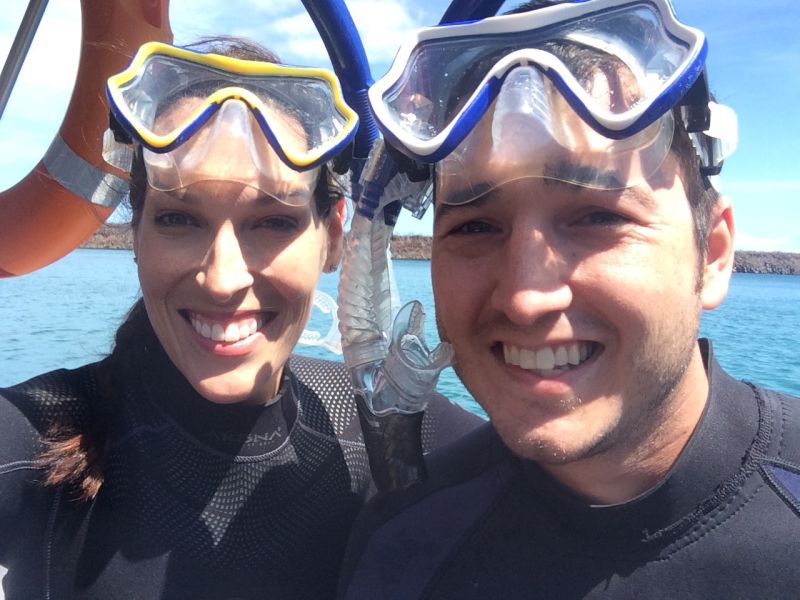 5 / 12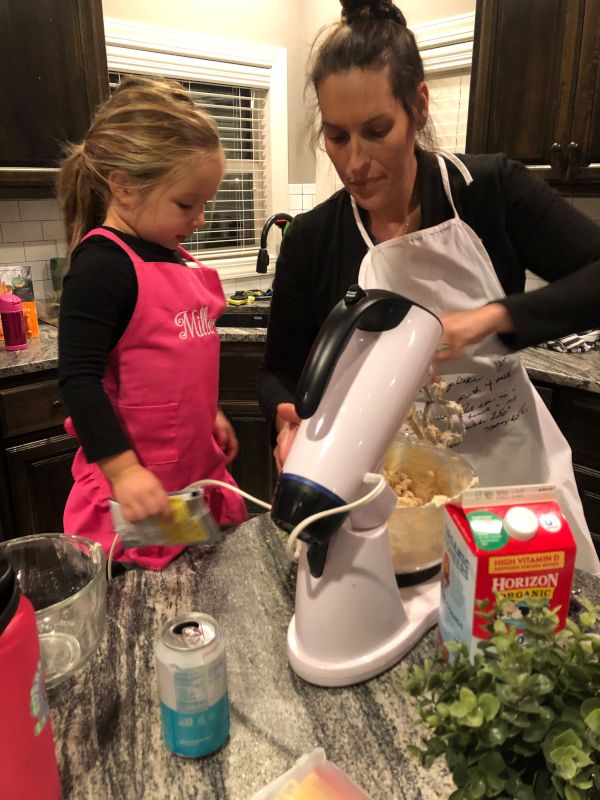 6 / 12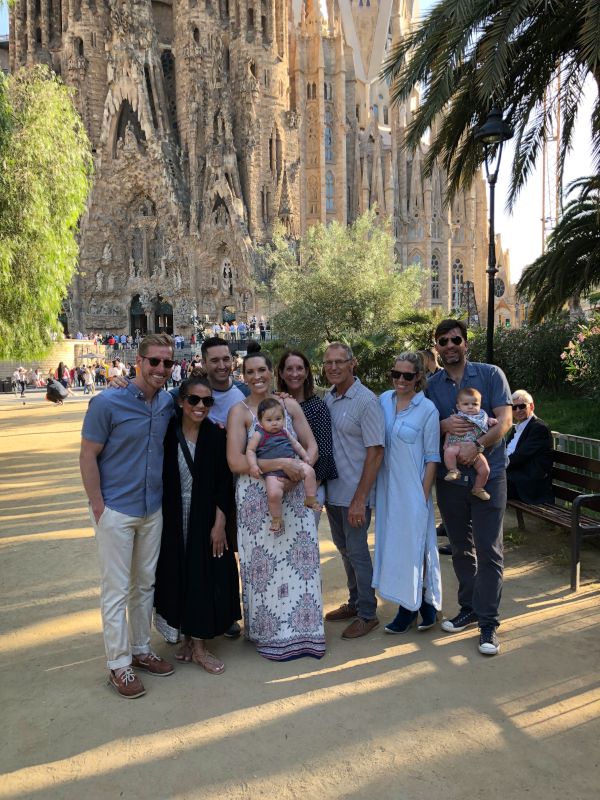 7 / 12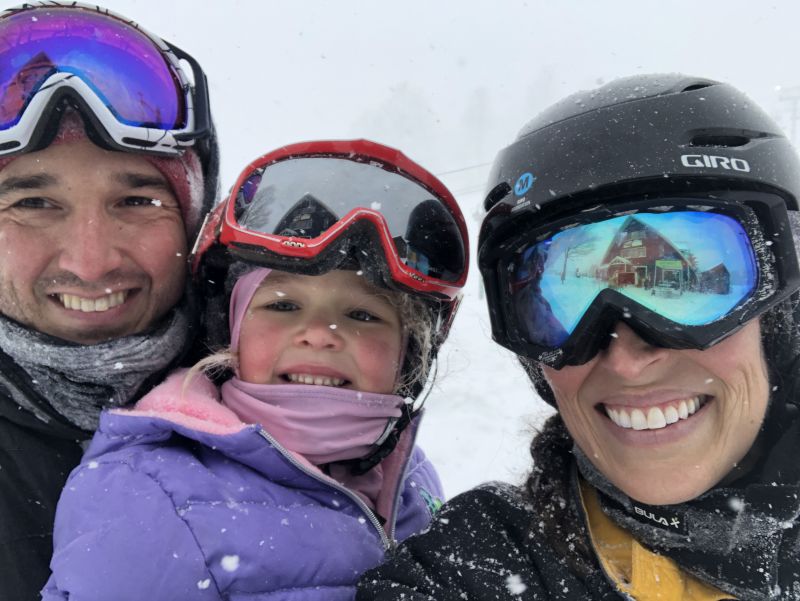 8 / 12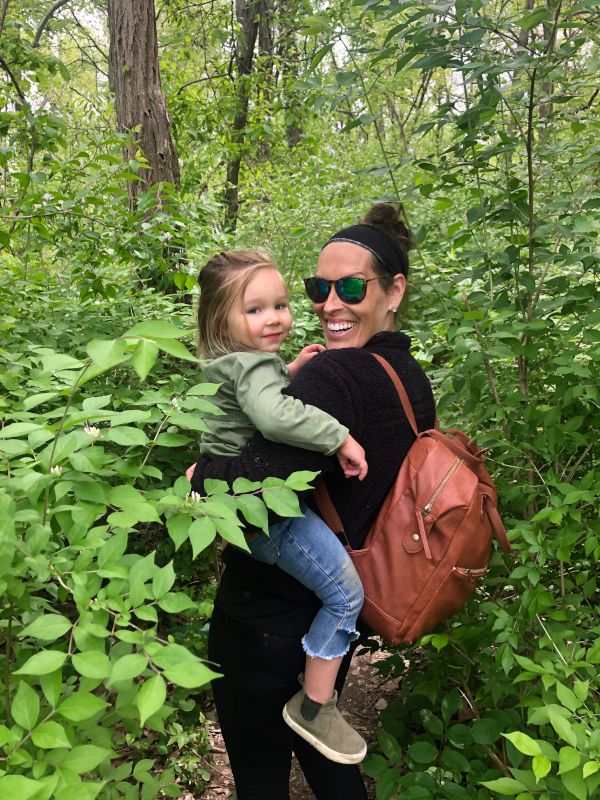 9 / 12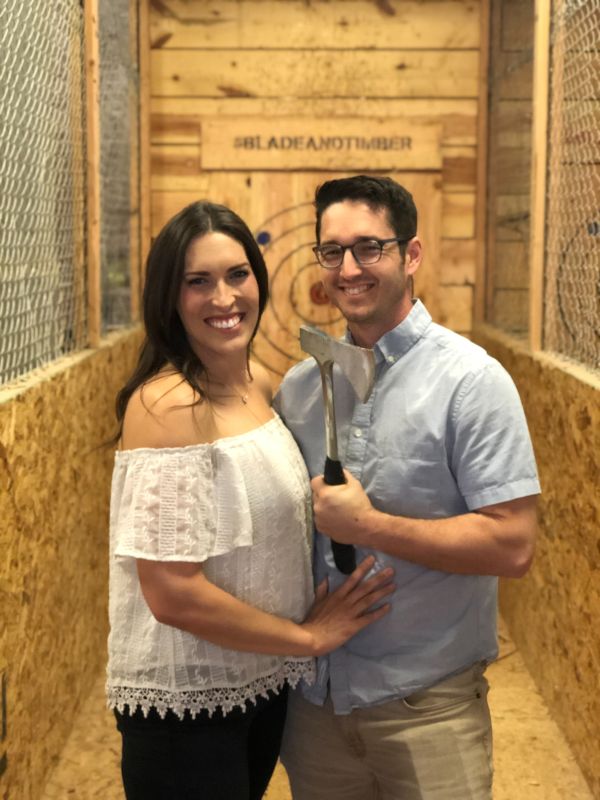 10 / 12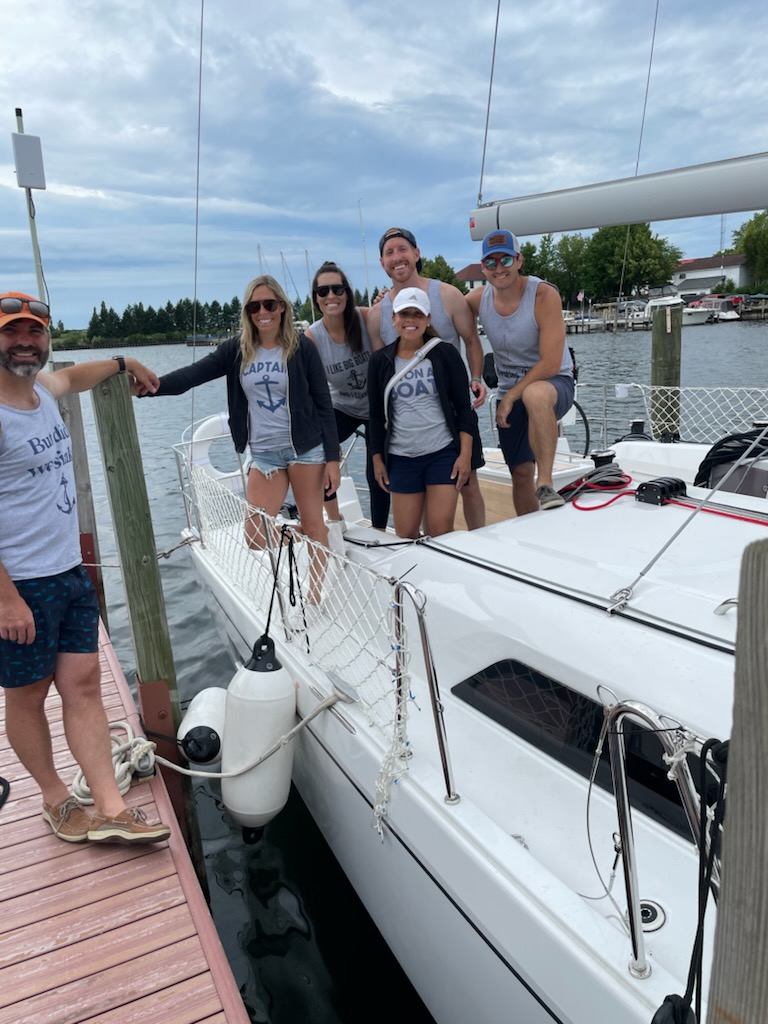 11 / 12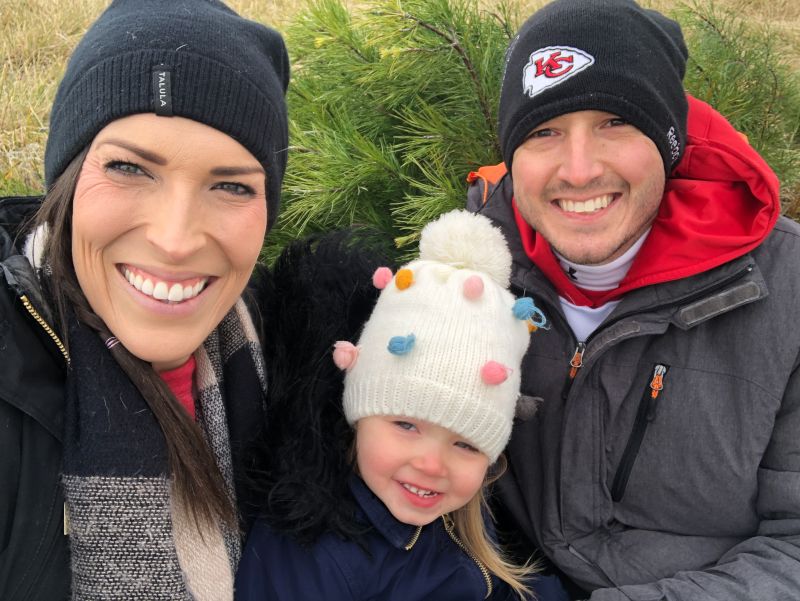 12 / 12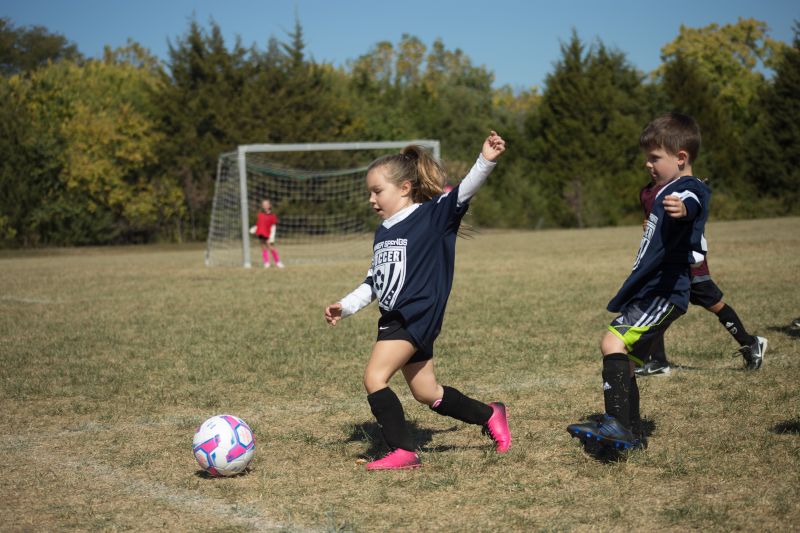 ❮
❯
Our House and Neighborhood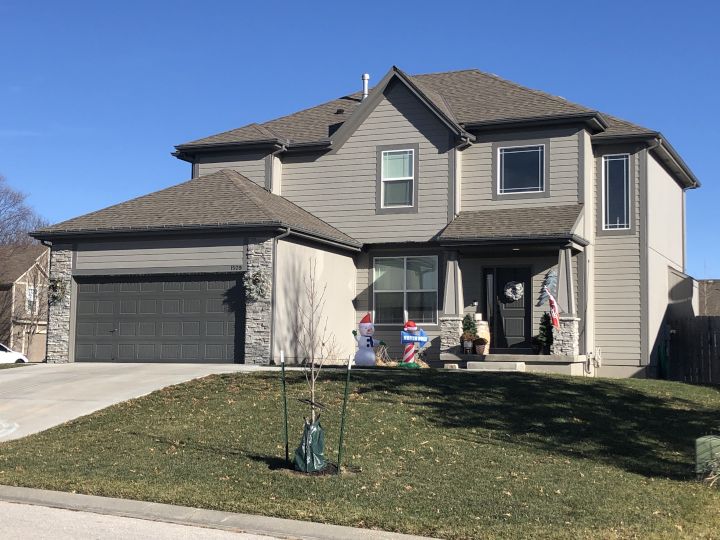 The best compliment we've ever received about our house is that it feels like a home. We've poured everything into making sure that all that fills it is special and unique to us, from the art projects lining the walls to the laughter of our daughter as she delays bedtime ... yet again.
One of our favorite parts of our house is the open main level where you'll usually find Kelli cooking in the kitchen, which she loves, while Kevin and Miller set up a tea party in the living room. ALL of Miller's animals and baby dolls are invited to tea, naturally, and our beloved dog, Calypso, is never far out of sight.
The outside of our home is just as important where we wow neighbors with our mediocre attempts at chalk art on our driveway and host outdoor movie nights. We spend a lot of time on the sidewalks on any wheels imaginable, from bikes to scooters and strollers. We specifically chose our neighborhood because right in the heart of it, and a short walk from our home, is a family park where we've spent many hours and met many new friends.
Additionally there's large city park and an outside music venue right next to our neighborhood and we open up our windows in the summer and let the concert music roll in.
The best part of all, however, is that we are just a short drive from both of our families and we take advantage of that, often.
Our Extended Families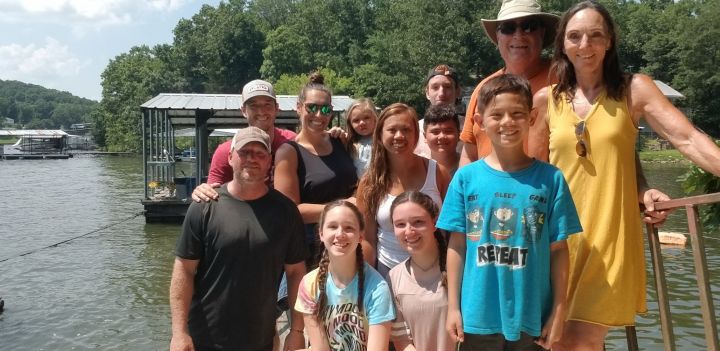 While we were dating, and the first few years we were married our jobs took to us to live in various parts of the country. Six years ago we decided to move back to Kansas from Florida for the sole purpose of coming home to raise our family where we both grew up. We have such special relationships with our parents, siblings and other relatives that we knew being near to them wasn't a question when raising our family.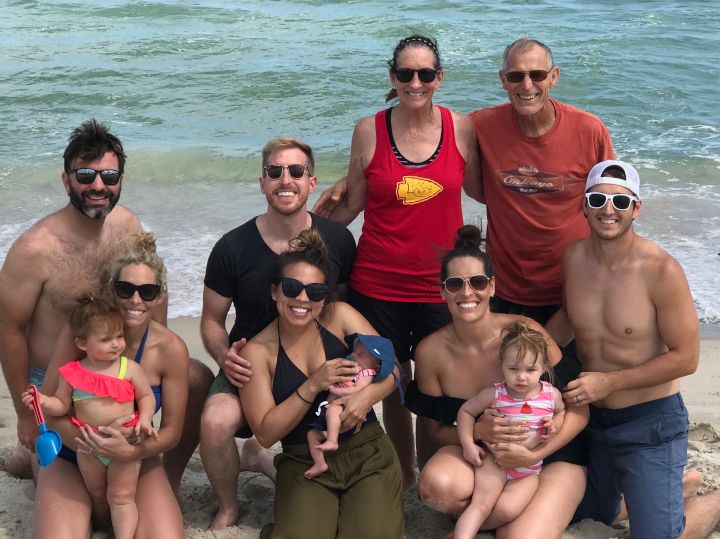 We see our parents several times a week as they enjoy every moment they can as grandparents. "Kaki and Bobber" are always up for adventure with picnics, swimming, and CandyLand. Kevin's parents live 5 minutes away from us, which is so convenient for Friday night card games and watching our Chiefs play on Sundays. We're pretty sure Grandma Sandy and Papa T already have a set of clubs waiting for when their grandkids are ready to hit the golf course with them right behind their house!
And the boatload of cousins? They're excited to add one more to the rowdy group!
From Us to You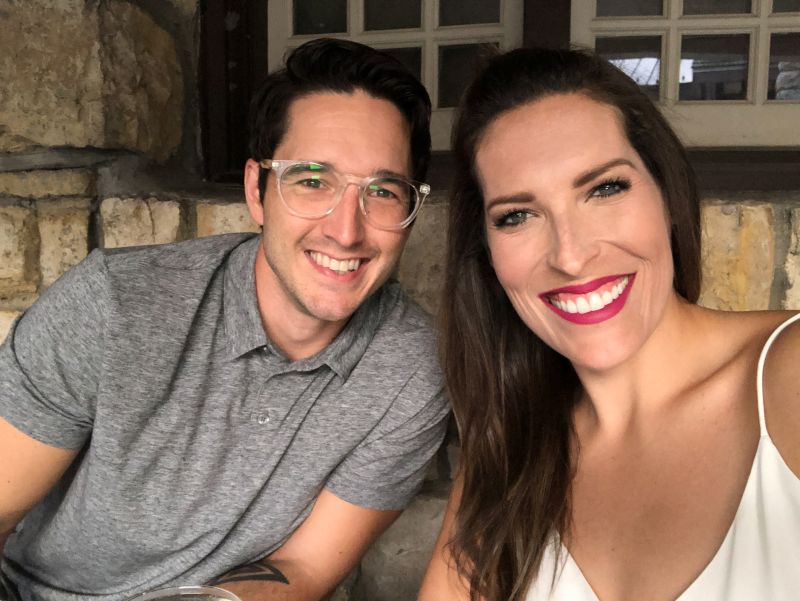 How to begin to even tell someone that we haven't even met, just how special they are to us? It's not easy but we sincerely hope our authenticity and appreciation shine through in this letter to you. Being touched by adoption before with our daughter, we know that there are three sides forever connected in the story of our family. There's the two of us, the birth parents making us a family, and the children we will have the honor of raising into kind, loving and beautiful people.
It's a bond we've been so impacted by that two years ago on our anniversary we did what any two sensible people in love would do and got matching triangle adoption tattoos, of course, that is a daily reminder of that connectedness. Humor aside, we know the gravity of the decision that's brought you to reading this letter, and we promise to you that we'll care for your heart all the days of our lives, just as much as we'll care for your child. We're so appreciative of you for even considering giving us that honor.
We're not only a family that places a premium on fun and adventure, but we're also intent on being the best support system for one another celebrating all of life's successes and nurturing those moments of loss and disappointment. Mom and Dad is a role that we've believed since day one as the single most important role of our lives. From the moment we said 'I Do' on a chilly October day eight years ago, we've been intent on building that strong foundation to provide a loving home for the family we've always dreamed of.
And there's one member of our family, especially, who can't wait to take on the role of big sister. We're so hopeful that the bond of adoption and sharing similar stories will be such a benefit for our children as they grow up and come to see all of our birth families together as special parts of their lives.
Your child will always know their story and the selfless decision you made out of love to give them a great future. If they possess even an ounce of the strength you have, we would be so proud. We look forward to sharing photos, videos, and memories with you as they grow up and, if you so desire, we would love nothing more than for you to see for yourself in person who your child is growing up to be.
The promise we make to you, loving your child with every ounce of our being, will be the greatest promise of our lifetime. It's one we won't take lightly. We mentioned before just how special you are to us just by reading this letter, and we embrace the opportunity to welcome you and your child into our family forever. The years ahead will be filled with lots of emotions and we can assure you they will be anything but boring.
Sincerely,
Kevin & Kelli
Favorites
Book
All the Light We Cannot See
Candy Bar
Butterfinger
Reese's Peanut Butter Cups
Cartoon
Teenage Mutant Ninja Turtles
Childhood Memory
Traveling and Playing Sports with Family
Road trip to the 96 Olympics in Atlanta
Childhood Toy
Ninja Turtles
Cabbage Patch Doll
Children's Book
Bernstein Bears
If You Give a Mouse a Cookie
Classic Movie
The Big Lebowski
Robin Hood Men in Tights
Day of Week
Saturday
Saturday
Dessert
Sugar Cookies
Cheesecake
Disney Movie
Toy Story
Aladin
Dream Car
Volkswagen The Thing
Jeep Wrangler
Dream Job
Voice actor
Broadway Actress
Dream Vacation
Alaska
New Zealand
Family Activity
Traveling
Lake Trips
Flower / Plant
Palm Tree
Hydrangeas
Form of Exercise
Weightlifting
Weight Training
Hobby
Sports, improv
Furniture Restoration/Building, Reading
Holiday
Christmas
Christmas
Holiday Song
O Holy Night
O Holy Night
Holiday Tradition
Watching Christmas Movies
Family Christmas Pajamas!
Ice Cream
Heath Blizzard
Reese's Blizzard
Junk Food
Peanut Butter M&Ms
Chips
Leisure Activity
Video Games, Movies
Reading
Memory with a Child
Her Birthdays
Watching Fireworks
Memory with Spouse
Trip to the Galapagos
Playing Games
Movie Munchie
Sour Patch Kids
Popcorn
Musical Group
Manchester Orchestra
Manchester Orchestra
Olympic Event
Gymnastics
Gymnastics
Personal Hero
My Grandfather
Quality about my Spouse
Ambitious
Sense of Humor
Restaurant
Greek Restaurant
Mexican
Shopping Store
Target
Target
Sport to Play
Volleyball
Volleyball
Sport to Watch
Football
Football
Sports Team
Kansas City Chiefs
Kansas City Chiefs!
Subject in School
Science
History
Thing to Cook
Grilling
Blueberry Scones
Tradition
Christmas traditions
Sewing Family Christmas Stockings
TV Show
Silicon Valley
Game of Thrones
Vacation Spot
Snow-skiing
Exploring New Countries
Get in Touch
Provide more information, so American Adoptions can connect you with this family.
---