What is the Home Study for Adoption in Ohio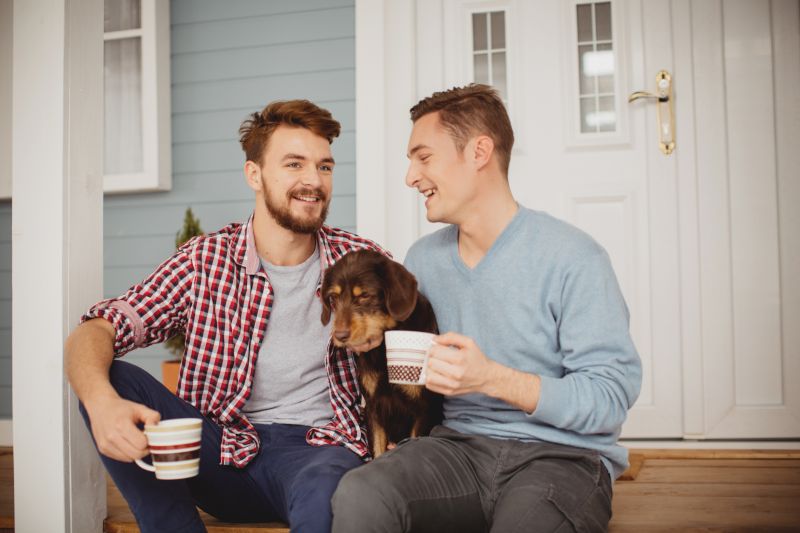 Does the thought of having your home and life placed under scrutiny seem a little overwhelming? That's normal, and it's a feeling many hopeful adoptive parents experience regarding the required home study in Ohio. But you don't have to let the home inspection for adoption in Ohio get the best of you. We're here to help you get through it.
Adoption home studies in Ohio aren't about finding reasons not to allow you to adopt. They're meant to protect the adoptee and make sure they're placed in a safe, healthy home. There are no "gotcha" moments, especially when you have guidance from a licensed adoption professional when preparing for the home study process.
We at American Adoptions are here to help you with that. Our full-service agency can help families prepare for adoption home studies in Ohio. Our team of dedicated professionals, many of whom are birth mothers, adoptive families and adoptees, are available 24/7 to answer your questions about the process.
To speak with one of our specialists today about home studies for adoption in Ohio, please call 1-800-ADOPTION or complete our online form. In the meantime, this guide will provide you with some basic info on the adoption home study process and what you need to know about the requirements for your adoption home study, so read on below.
What is the Ohio Home Study for Adoption, and What Is Its Purpose?
So, what exactly is a home study for adoption in OH? The adoption home study is a review of your residence and home life that's required prior to the placement of a child. The purpose of it is to make sure a potential adoptive family is ready for adoption. It includes a thorough, multi-faceted process conducted by a licensed home study professional.
Often the cause of stress for potential adoptive parents, the home study for adoption in Ohio can take time to complete. While there's no reason to worry about the outcome, it's still a good idea to begin preparing for the home study in Ohio early in the process.
Your first key to a stress-free home study is finding a fully licensed professional to guide you through it. Home study laws vary among states, but your professional handling your home study in Ohio will be well-versed in the state's process and will lead you through it. If you partner with our team at American Adoptions, we'll help you prepare for the home study in Ohio.
Our licensed social workers will employ their experience and expertise to ensure your home study for adoption in Ohio is as low-stress as possible. Many American Adoptions specialists are also adoptive parents who have completed the home study process themselves, so they can offer you top-notch support as you work through this important step.
What are the 4 Steps in the Home Study for Adoption in Ohio?
The rules differ among states when it comes to home studies for adoption in Ohio. One constant is that all states require that the home study is performed by licensed home study professionals. Your professional performing your home study in Ohio is a resource as you navigate the process. Rather than being an adversary, your professional is truly there to help you prepare for your child's placement.
Our goal at American Adoptions is to assist you in creating the best possible home and family life for the adoptee. We are fully licensed in the state, so we can help you prepare for your home study in OH in addition to providing all the other services needed to complete an adoption.
Still wondering, "What is a home study in Ohio, and what do I have to do to complete one?" If your answer is yes, please read on below to learn about the four main parts of the home study for adoption in Ohio.
Step 1: Assembling and Submitting Required Documents
Adoption involves a large volume of documentation. The adoption home study in Ohio is the mechanism for collecting, assembling, and recording the necessary paperwork. Once you put it all together, you'll submit the documents to your home study professional for review before the first in-home visit.
Step 2: Completing the In-Home Interview
The next step in the process is the in-home interview. During this portion of the adoption home study in OH, your social worker may ask you questions such as:
Why are you interested in adoption?
Why is now the right time for you to adopt?
What kind of relationship do you share with your spouse?
How will you parent your child?
What are your feelings on adoption?
What are your thoughts about the child's birth family?
And many more
Step 3: Participating in the Home Inspection
Once the interview part of the process is complete, your social worker will tour your home to inspect whether it's safe for a child. Your home doesn't need to be immaculate, as the social worker will only be confirming that it's safe, clean and healthy. When this part of the home study in OH is over, your social worker may give you suggestions to help you better prepare your home for your child.
Step 4: Hosting Follow-Up Visits After Placement
At the end of the home study for adoption in Ohio, after your child is placed in your home, there will be follow-up visits known as post-placement visits before your adoption can be finalized. Your social worker performing the home study in Ohio handles these post-placement visits, which are meant to confirm all parties are adjusting to the new circumstances.
How Long Does the Completed Home Study for Adoption in Ohio Last?
Once you've completed your home study in Ohio, it's good for two years. Sometimes you may wait longer than that for an adoption opportunity, and if that's the case, your home study will need to be updated before you can proceed with accepting an adoption placement. You may also need to update your home study in Ohio if you experience changes like:
A divorce
An addition to the family
A new job
A change of address
What Documents Should I Prepare for My Home Study in Ohio?
Below you'll find a list of required documents that you must submit during the first step in the home study for adoption in Ohio process:
Birth certificates of both parents
Driver's licenses for both parents
Marriage certificates
Reference letters
Recent tax returns
Recent medical statements
Insurance records
Personal adoption narratives
There are other documents that may be requested as part of the process for a home study in Ohio, depending on your specific situation, including:
Military discharge paperwork
Green cards or immigration paperwork
Previous adoption decrees
Pet vaccination records.
It's always a good idea to start early when collating the required documentation in order to avoid delays and reduce any stress related to the home study. You can assemble these critical documents before your home study in Ohio even begins.
What Will Happen During the Adoption Home Tour?
It's not uncommon for hopeful adoptive parents to feel a little unnerved at the thought of your home life as part of the adoption home tour. But you can minimize the stress of the situation by making preparations ahead of time to boost your comfort with the process.
During the home tour, your social worker will assess your readiness to adopt. They're not trying to trick you or trip you up. Just be yourself and be candid when discussing your feelings about adoption and the overall process.
The adoption home study tour isn't meant to expose issues in your home. Your home doesn't have to be perfect as long as it's a safe and healthy environment for a child. The social worker will be looking for things like:
Covered electrical outlets
A first-aid kit
Working fire extinguishers
Gates blocking stairs
Screened windows
Remember, your social worker isn't out to get you. They want to help you best prepare for placement, and the feedback they offer is constructive in nature. Your social worker's main goal is to help you create the safest, healthiest environment for the potential adoptee.
Do I Have to Take Any Courses as Part of the Home Study for Adoption in Ohio?
The adoption home study requirements don't require you to undergo specific training for private domestic adoptions. However, your agency may have such requirements. You may also consider getting important training (such as CPR and First Aid certification courses or adoption parenting courses) to be better prepared for parenting. You may even consider special needs training or cultural diversity classes depending on the situation.
You will need to undergo a criminal background check as part of the home study in Ohio, however. That requirement ensures the safety of adoptees, so every adult living in your home must complete a criminal background check, including sex offender, child abuse, and negligence checks for every adult resident of the household.
What Does the Average Home Study in Ohio Cost?
The cost of the home study for adoption in Ohio can be shaped by many variables, but there is usually a charge that's covered by the hopeful adoptive parents. The cost of the home study can range between $900-$3,000, with your specific circumstances determining where in that range the cost will fall.
Final Words on the Adoption Home Study Process
It's natural to feel a little overwhelmed about the adoption home study process. But with proper preparation and help from a licensed adoption professional, there's really nothing to worry about. We're here for you when you're ready to get started, and we offer everything you need for a successful adoption in one fully licensed organization.
To speak to someone today, simply call 1-800-ADOPTION or complete our online form to connect with one of our professionals. We've helped more than 13,000 families achieve their adoption goals, and we're here to help you on your path toward family growth as well.
Disclaimer
Information available through these links is the sole property of the companies and organizations listed therein. American Adoptions provides this information as a courtesy and is in no way responsible for its content or accuracy.