What If I Can't Find Parents for My Baby in Ohio?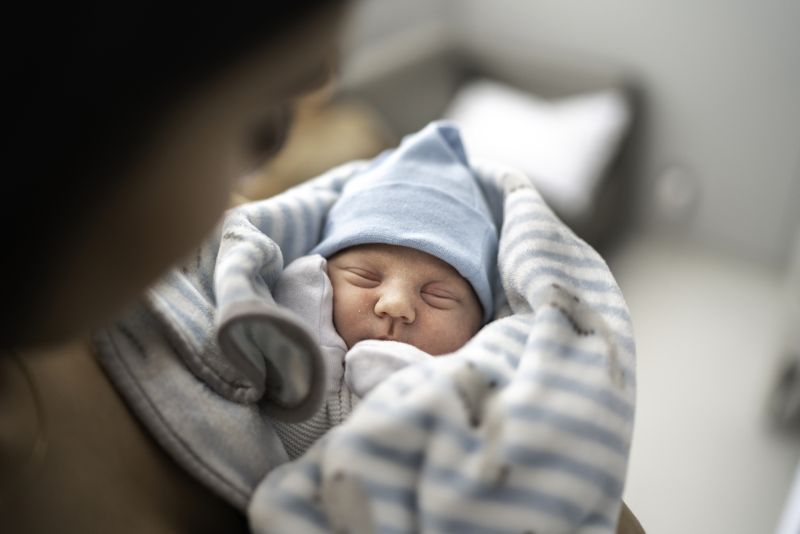 If you're realizing at the last minute that parenting isn't an option, you can still choose adoption for your baby. Call 1-800-ADOPTION now to speak with a helpful adoption specialist.
Choosing a family to adopt your baby can be a lot of pressure. But we are here to help, and it is never too late. There are so many hopeful families to choose from that the choice can seem impossible, but it doesn't have to be that way.
Women who choose adoption early in their pregnancy have many months to think about what type of parents they want for their baby. Other women may choose adoption late in their pregnancy or at the hospital during or after childbirth have little time to consider the perfect family for their baby.
Don't worry. Our professional and experienced adoption specialists can help you in these situations. You can call us at 1-800-ADOPTION if you haven't chosen a family in Ohio, or if you are choosing adoption late in your pregnancy, at the hospital or even after your baby is born. You can also contact us online with your questions at any time.
Is it Too Late for Me to Choose Adoptive Parents?
No, it is never too late for you to choose adoptive parents. You can choose hopeful parents for your baby at any point in your pregnancy — or after. Many adoption matches are made at the "last minute," which means you are in the hospital ready to deliver your baby or you have taken your baby home weeks or months after birth.
There are even prospective birth mothers who choose adoption, but they don't feel comfortable choosing a family. In this case, adoptive family specialists will contact the family that matches your adoption situation and your baby's profile and have been waiting for a long time to adopt a child.
If No One Adopts My Baby, Will They Go to Foster Care in Ohio?
Your baby will not go to foster care if you have not matched with a hopeful family. There are so many families waiting to adopt a child that you don't have to worry about your child not being adopted in Ohio. Even if you are experiencing special circumstances like having a special needs baby, our adoption specialists will reach out to agencies who have families looking to adopt your child.
You can be confident that there are many hopeful parents looking to adopt your baby, so he or she will be adopted. If you have concerns about your situation and if your baby will be adopted, you can contact us at 1-800-ADOPTION to speak with an adoption specialist. You can also contact us online at any time and we will answer your questions.
What If I Don't Have an Adoptive Family Picked When I Give Birth in Ohio?
If you are choosing adoption at the last minute or on the same day that your baby is born, you may not have invested time in finding the perfect parents for your baby. That's OK. We are here to help. Finding an adoptive family for your baby after you give birth is still possible. Here's how.
First, it is important for you to know that your adoption specialist will always have your back. Once your specialist has the required information about you and your baby, then you can get immediate access to our waiting families that match your preferences. Remember, you can choose everything about your baby's parents from ethnicity to religion and where they live, no matter when you begin your adoption process.
Next, your adoption specialist will contact the family that you want to adopt your baby and give them a few hours to decide if they can accept the adoption match. Sometimes, your specialist may need to contact more than one family that you're interested in because another family was unable to accept the adoption opportunity at that time, and that's OK. Your baby's perfect parents will be ready to accept when they get the call that you have chosen them to adopt your baby. Your specialist will then arrange for the adoptive parents to travel to the hospital where you can meet and communicate with them if you choose to do so.
Finally, you don't have to stress over finding an adoptive family by the time your baby is born in Ohio. We have many years of adoption matching experience, so you can rest assured that we will help you find the perfect family for your baby. You can have peace of mind in knowing that all our families have been thoroughly screened and the perfect parents are ready and waiting to give your baby a lifetime of love.
Our staff works hard to ensure that babies who are placed for adoption with our agency are always adopted. No matter when you choose adoption, you will get all the adoption services and professionals that you need to complete a successful Ohio adoption. You can give us a call at 1-800-ADOPTION at any time, or you can contact us online today for more free adoption information.
How to Place Your Baby for Adoption if You Haven't Chosen an Adoptive Family
You never have to worry about your child not being adopted in Ohio, and you always have the right to choose your child's parents. You can follow these steps to choosing your baby's adoptive parents if you are choosing adoption late in your pregnancy or you have already taken your baby home:
Step 1: Choose What Type of Family You Want for Your Baby.
You can choose everything about your baby's parents from race, to religion, occupation, the state where they live and more. It is important for you to be confident in your decision and get support from your adoption support team when you need it.
Step 2: View Adoptive Family Profiles and Adoptive Family Video Profiles.
These family profiles are made with you in mind. Our families answer many questions about themselves and why they are choosing to start or grow their family through adoption. Their homes and lifestyles are unique, but each family is screened for adoption and ready to adopt your child.
Step 3: Start an Open Adoption with Your Chosen Adoptive Family.
An open adoption allows for you to communicate with the prospective adoptive family that you choose, so you can be confident in your decision for you and your baby. Research has shown the benefits of open adoption for you, your child and the adoptive parents. Many birth parents and adoptive parents become lifelong friends, and this could be the best outcome for everyone involved.
You can call American Adoptions of Ohio at 1-800-ADOPTION, or you can contact us online to start your adoption journey with your chosen adoptive parents today.
Disclaimer
Information available through these links is the sole property of the companies and organizations listed therein. American Adoptions provides this information as a courtesy and is in no way responsible for its content or accuracy.