How to Find Adoptive Parents [in Ohio]
What You Need to Know about Finding the Right Adoptive Family for Your Baby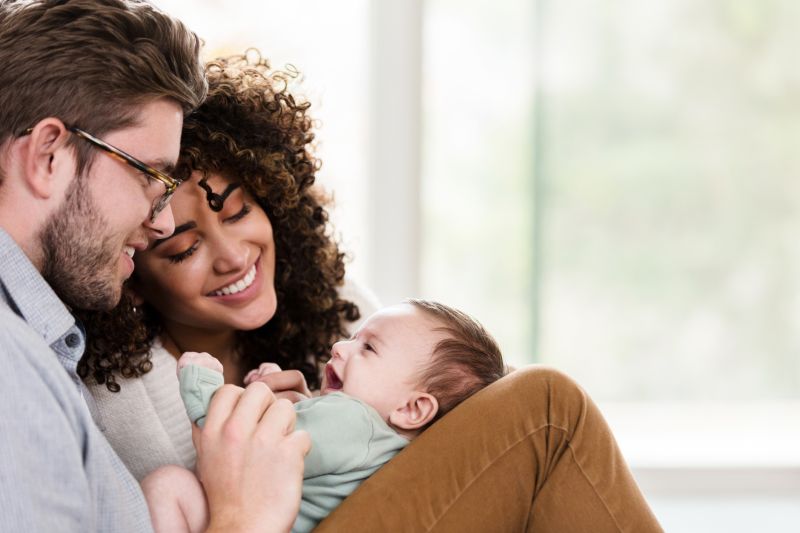 Because you love your baby, providing them with the best life possible is a top priority. As a result, finding the right adoptive family is one of the most significant and exciting steps of the adoption process.
If you're considering adoption in Ohio, then you may already have an idea of what type of adoptive family you want for your child. But, you might not know how to find that adoptive family. That's where American Adoptions of Ohio comes in.
Not only are we fully licensed in Ohio, but we are also a national agency. This means American Adoptions of Ohio can help prospective birth mothers find adoptive parents in Ohio or any other state across the country. Location is just one of many factors you can choose about your child's adoptive parents – you don't have to choose a family in Ohio.
When it comes to looking for adoptive parents for your baby, American Adoptions of Ohio is better suited than other agencies to help you find the exact type of family you're searching for.
For hopeful adoptive parents, you may be interested in learning about how to create a stellar adoptive profile. To learn more, here are some tips on what to include to portray your personality and genuine desire to become a parent.
If you're wondering how to find adoptive parents in Ohio, then call us at 1-800-ADOPTION at any time to speak with one of our experienced adoption professionals. You can also get free adoption information now or browse waiting adoptive parents' profiles. Continue reading to learn more about finding adoptive parents in the Buckeye State.
Who wants to adopt my baby in Ohio?
Many prospective birth parents are afraid that there are not many couples looking to adopt. But, there are more than 2 million families waiting to adopt in the U.S. In other words, there are 36 adoptive families for every baby placed for adoption.
If you're browsing families looking to adopt a baby in Ohio, then there are hundreds of couples to choose from if you work with the right agency.
American Adoptions of Ohio works with many adoptive families simultaneously, which gives you a better chance of finding the best adoptive parents possible for your baby in Ohio. We go above and beyond for our prospective birth mothers, and we're always a phone call away at 1-800-ADOPTION. We also provide 24/7 counseling services to bring you peace of mind whenever you may need it.
"Ten years later, and I am now going to school to begin my career as a medical practice manager, and I honestly don't think I would be in this place if it wasn't for the support I received from American Adoptions," Brittnee, a birth mother, said. "Finding them has changed my life and the life of that 5 lb. 6 oz. little girl I delivered that day."
Can I choose who adopts my baby in Ohio?
Another common concern that prospective birth parents have is that their child will be placed with adoptive parents that they don't feel are right for the child. We hear this all the time, but we usually dispel these worries when we tell them that they are in full control of who they place their child with.
You call all the shots in your Ohio adoption process, including the adoptive parents for your baby. This is a significant choice, and American Adoptions of Ohio wants you to feel empowered when you decide what is best for you. Your adoption professional will be there to guide you through each step of your journey and provide you with any support you need.
How do I select parents to adopt my baby in Ohio?
Many prospective birth mothers feel that finding adoptive parents in Ohio for their child is one of the most exciting parts of the adoption journey. This provides plenty of reassurance, as well, because they know that they have found adoptive parents who will give their child a loving, caring home.
It can be a bit overwhelming though, especially because there are so many adoptive families to choose from.
So, our staff at American Adoptions of Ohio has devised a way to best determine what type of family you want for your baby. Below is a list of questions you can ask yourself. Keep in mind that there are no right or wrong answers or questions. But, here are some things you can consider asking yourself:
Do they have pets?
Do they have other children? Is their family large or small?
Where do they enjoy traveling?
What are their values? Are they religious? What are their hobbies?
Do they live in an urban, suburban or rural environment? Do they live by the ocean or mountains?
You can also ask yourself how much you would like to keep in touch with the adoptive parents after the adoption finalization. The amount of post-adoption contact is up to you, and American Adoptions of Ohio can help you find adoptive families that share your preferences.
Finding adoptive parents that are right both for you and your child is a vital step. Open adoption in Ohio allows you to have a relationship with the adoptive family after placement. There are different levels of openness, too, so you can choose a level of communication with which you're comfortable. In other words, when you feel "right" after connecting with an adoptive family, this is a great sign.
"The adoptive parents are super supportive," Jessica, a birth mother who worked with our agency, said. "They have reached out to me on this journey and are very adamant in keeping in touch and sharing her milestones with me. It makes me feel connected to her still. I want to thank American Adoptions for helping make this process a really comfortable choice."
Do the adoptive parents have to live in Ohio?
When you work with a national adoption agency, such as American Adoptions of Ohio, you aren't restricted to finding adoptive parents in the Buckeye State. They can live anywhere in the country. Smaller, local agencies have to work within their general area of Ohio, but national adoption agencies can work with adoptive families throughout the United States.
But, you may want to find adoptive parents in Ohio because there are some things that you might want your child to grow up near. This includes the wonderful Cincinnati Zoo & Botanical Garden, the incredibly fun Rock & Roll Hall of Fame in Cleveland, the Columbus Zoo and Aquarium and more.
***
Do you want to learn more about how to find the right adoptive parents for your baby in Ohio? Give us a call at 1-800-ADOPTION to speak with one of our experienced adoption professionals. You can also get free adoption information now. If you want to get a head start on finding adoptive parents, then can you browse adoption profiles online.
Disclaimer
Information available through these links is the sole property of the companies and organizations listed therein. American Adoptions provides this information as a courtesy and is in no way responsible for its content or accuracy.