LGBT Adoption in Ohio [4 Answers to Common Questions]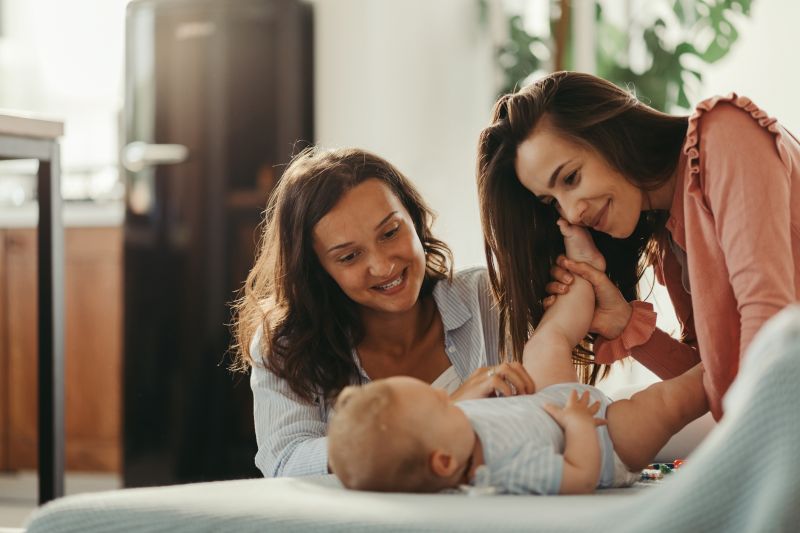 American Adoptions is more than happy to assist you with gay adoption in Ohio because we believe everyone deserves a chance to have a family.
We are driven by the core belief that family is deeper than biology, which is why we strive to help families of all backgrounds. We've helped countless LGBT couples start their family, and we'd be thrilled to help you with your Ohio same-sex adoption.
At American Adoptions, you'll never face any judgement from our specialists. Many of our staff have been through the adoption process as adoptive parents, so we understand the deep desire to want to have a child all your own to raise, love and support.
If you're a prospective birth parent wanting to place your child with an LGBT couple in Ohio, you can find your perfect match here. If you're a same-sex couple ready to begin your journey towards starting a family of your own through gay adoption in Ohio, contact us online today. Our specialists will offer you unbiased support and guidance.
How does Gay Adoption in Ohio Work?
Nobody should have to deal with discrimination when trying to start or add to their family. Fortunately, in today's day and age, adoption has never been more accessible. Gay adoption in Ohio is no exception to this. If you're wondering what the Ohio same-sex adoption process entails, it is no different than it is for different-sex couples.
When you work with American Adoption for your gay adoption in Ohio, you can expect to go through the following steps:
Step 1. Choose Adoption [Explore Family Building Options]
If you're reading this article, you have most likely already chose adoption or are seriously considering it. Every year, thousands of hopeful families choose adoption as a way to expand or add to their family. It's a beautiful and selfless choice, because not only are you getting a new family member, but you are giving a child the gift of a loving and home full of opportunities.
Step 2. Choose an Adoption Professional [How to Find the Best One]
Once you've decided that you're ready to begin your Ohio same-sex adoption process, you will need to choose an adoption professional.
While same-sex adoption in Ohio is legal, some adoption agencies may be more LGBTQ friendly than others. American Adoptions takes pride in helping same-sex couples add a new member to their families and will provide you with the same level of attentiveness and care.
Step 3. Get Matched with a Birth Family [Making Your Adoptive Family Profile]
Your adoption specialist will sit down with you to help you create your adoptive parents profile, which is kind of like a Facebook page, but full of information about your hopes for your adoption and the type of life you will provide for your future adoptive family.
Adoption specialists will match your profile to birth parents whose preferences match with what you have in your profile. The birth parents will look through theses profiles until she finds the family she feels is right for her baby. Once you have been chosen, your adoption specialist will contact you to give you the exciting news!
Step 4. Get to Know the Birth Parents [How Open Adoption Works]
If both you and the birth family are interested in getting to know each other before the placement, this definitely possible. In fact, we encourage it.
This will start with your adoption specialists mediating a conference call with the birth parents as you get to know each other. Depending what everyone's comfortable with, you'll be able to communicate through calls, texts, emails, and even in-person visits. Otherwise, the next time you two will meet in person will be at the hospital for the placement once the baby has been born.
Step. 5 Finalization [Complete Your Adoption Process]
Once you have brought your baby home, the adoption process isn't quite over yet. Your adoption specialist will make scheduled visits over the next six months to ensure that everyone is adjusting to post-placement life. Your adoption attorney will be in touch with you to schedule your finalization hearing.
Once the judge issues a decree of adoption, your baby will now be a legal and permanent member of your family!
Common Questions about Ohio Same-Sex Adoption
Even with all the excitement of preparing to start your family, you might have questions about gay adoption in Ohio. We have answers. As a national adoption agency we can provide you with an array of services including 24/7 support. Your adoption specialist will always be there for all your adoption needs. To get more answers to your questions about Ohio same-sex adoption, contact us online.
You can find answers to some of the common questions we get about gay adoption in Ohio.
Are there Ohio Laws on Gay Adoption?
No. There are no laws prohibiting Ohio same-sex adoption. Both single LGBT individuals and gay and lesbian couples are permitted to petition to adopt in the state of Ohio. Prior to the Supreme Court legalizing gay marriage in 2015, only single LGBT individuals could adopt. However, since then, same-sex couples are permitted to adopt in Ohio. And American Adoptions would be happy to facilitate your Ohio same-sex adoption.
Can Gay Couples Adopt in Ohio?
Absolutely! If you need help getting started with your Ohio same-sex adoption, American Adoptions has you covered. We are eager to help any hopeful adoptive couple achieve their dreams of having a family of their own.
Was There an Ohio Gay Adoption Ban?
Before gay marriage was legalized nationwide by a Supreme Court ruling in 2015, same-sex couples were not permitted to adopt in Ohio, because gay marriage was not legalized on state level. However, unmarried LGBT individuals could petition to adopt. With the legalization of gay marriage in all 50 states, gay and lesbian couples can now legally adopt in Ohio.
Are there LGBT Friendly Adoption Agencies in Ohio?
Yes! American Adoptions is one of them. While adoption agencies in Ohio can facilitate gay adoptions, it doesn't always mean they are LGBT friendly or that they have much experience with same-sex placements.
American Adoptions takes pride in helping hopeful adoptive couples of all backgrounds and will always welcome you with open arms. We're a national adoption agency with the hospitality of a local agency. In fact, we even have an office located at:
20 S. 3rd St.
Suite 210
Columbus, OH 43215
Begin Your Ohio Same-Sex Adoption
To get the support you need with your adoption process today or if you have more questions about gay adoption in Ohio, contact us today online. An adoption specialist will reach out to you ASAP to help you get started.
Disclaimer
Information available through these links is the sole property of the companies and organizations listed therein. American Adoptions provides this information as a courtesy and is in no way responsible for its content or accuracy.