1-800-ADOPTION
Thank you for viewing our profile
If you would like to learn more about us, please call 1-800-ADOPTION (2367846), fill out the form at the bottom of our on-line profile page, or email us at bp_information@americanadoptions.com.
To revisit our on-line profile page and view our profile video at American Adoptions, simply use your mobile phone to scan the QR code on the right. We are looking forward to hearing from you!
Michael & Dustin
There are not enough words to express how grateful we are that you are considering us as your adoptive family. Throughout our entire 17 year journey together the question regarding children has never been an "if?" but a "when?" After years of helping out with the care of all of our nieces and nephews, we are fully prepared and committed to providing an amazingly loving and supportive home for our future child to bloom!
About Us
Job
Store Manager
Emergency Veterinary Technician Supervisor
Education
Bachelor's Degree in Psychology
Associate's Degree in English and Performing Arts
Relationship
Legally Married
How We Met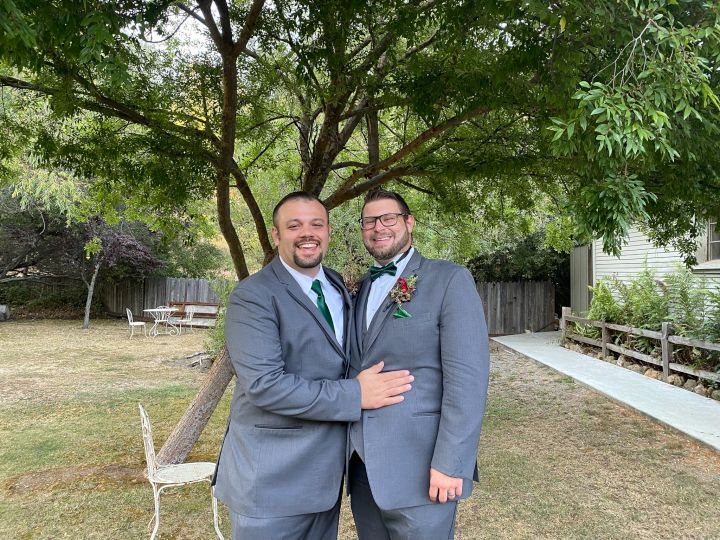 How we met is quite a story! We had mutual friends who bugged us to see each other for about a year before we caved in and agreed to meet up. Our friends had arranged a group blind date where they accompanied us to our local mini golf center, Golf Land. The moment that Dustin saw Michael, handed him a golf ball, and there was the slightest touch of hands in the exchange, he knew that Michael was going to be his person for the rest of his life.
Michael, however, was very wary and unsure. After an embarrassing scenario of Michael's sandal breaking and falling into one of the water features, Dustin then proceeding to almost fall into the water feature to save said broken sandal, and our friends ditching us intentionally so we had to spend some time alone together, we were at a loss as to what to do. Dustin had his car and Michael was stranded, so we decided to head to the Century dome-topped theater where Dustin worked as an assistant manager at the time. He reserved an entire theatre for just us to view a movie he'd prepared after hours with a huge bag of leftover popcorn from the day. Since then, it's been eighteen years and we haven't played mini golf since!
Our Individual Strengths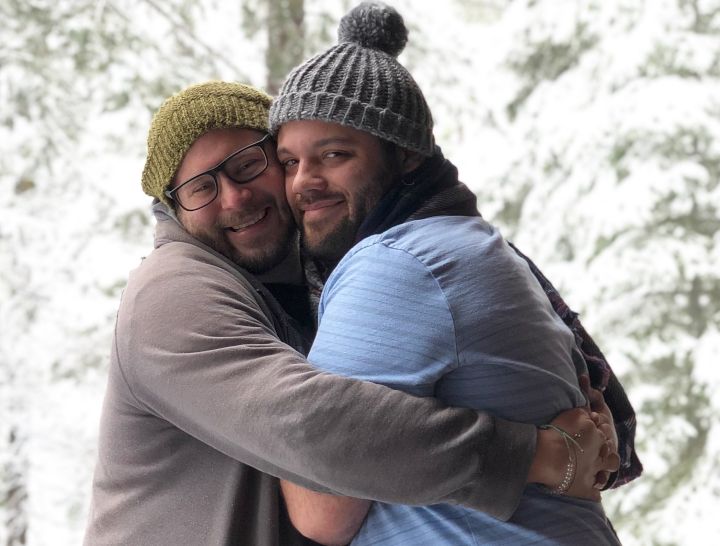 Dustin has strong creativity and can make anything work with just a few materials or ingredients! He can see the big picture and works to accomplish it in the best way possible. He has the ability to hyperfocus on something that we want or need and research it to find the best choice in anything. Dustin is always optimistic and stays curious when he doesn't know about something. He doesn't judge or stray away from something he is unsure of and is always patient.
Michael has interpersonal leadership skills that make him an amazing organizer and planner. He can problem solve anything that comes his way and is eager to be a listening ear to whoever needs it. He keeps people connected and makes sure that nobody feels left out in any situation and ensures that everyone has a say. He creates structure in our home and makes decisions that benefit everyone so they can feel seen, heard, and recognized. He is definitely what one calls a servant leader, even when it comes to taking care our zoo!
Our Family Traditions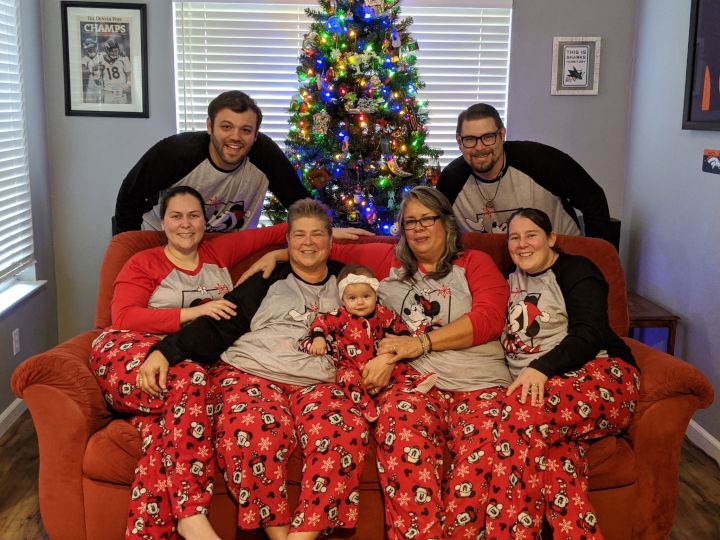 Family is incredibly important to us. During the holidays, we always make sure that we celebrate spending time with each other and distant relatives from around the US. Thanksgiving is when we rotate houses and come together over a large dinner to celebrate the many accomplishments our family members may have had during that year.
We also have hosted Friendsgivings for the past ten years that has grown from small three or four guest gatherings to an almost fifty guest potluck buffet when Dustin made two different styles of whole turkeys, a ham, and three types of gravy for our chosen family! Halloween has a special place in our heart; we adore decorating the house to excite all the children who Trick or Treat. We attend an Annual Family Halloween Movie night at Dustin's mothers' house where we use a projector and pick two movies to enjoy over homemade treats.
For Christmas, Michael loves to make Dustin's Grandma's traditional holiday candy and give it to the family. In between our cherished holiday visits, we make sure that once a year our friends come together and have a small gathering at a cabin in the woods where we catch up sharing experiences and laughing over memories, all the while enjoying a warm cup of coffee or a favorite recipe at the dinner table. We also try to go to the happiest place on earth once a year with all our nieces and nephews to visit Mickey Mouse at Disneyland!
Photos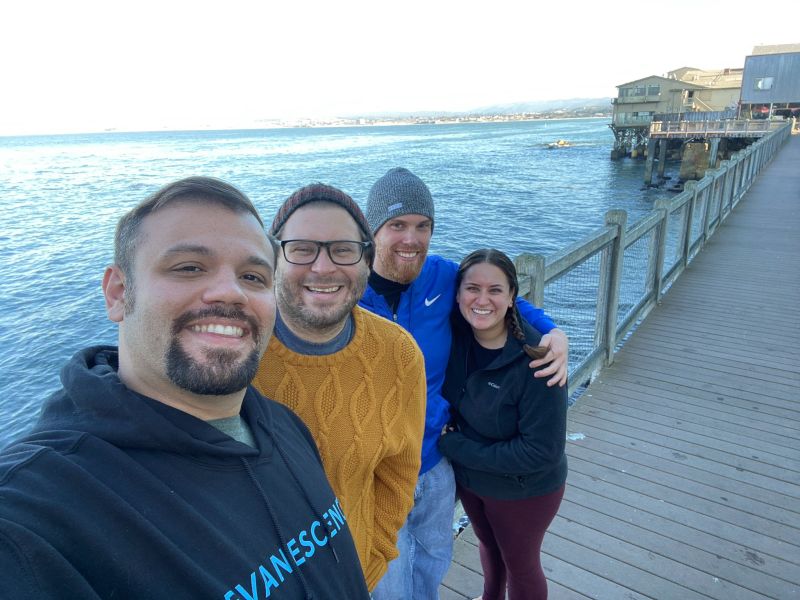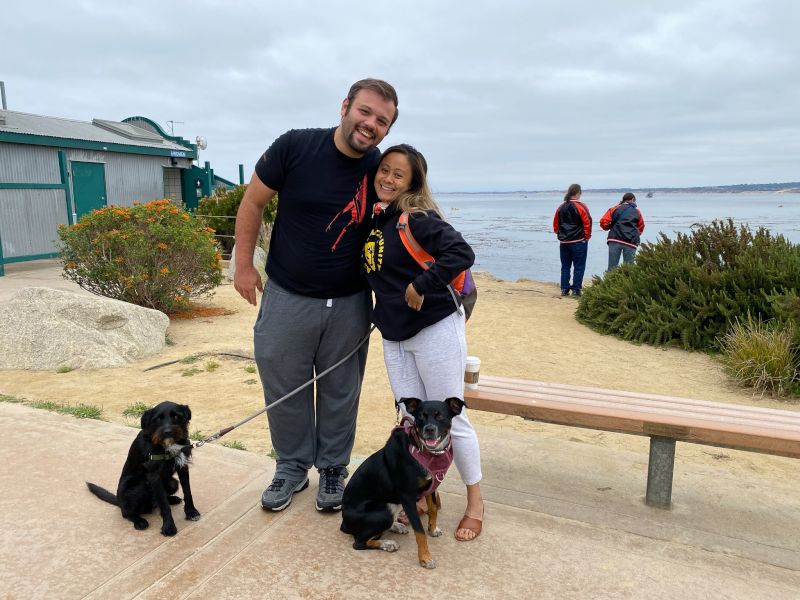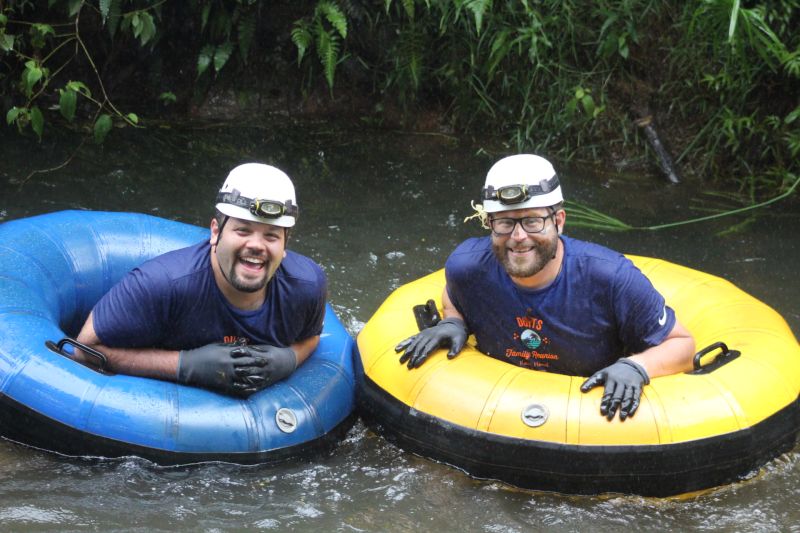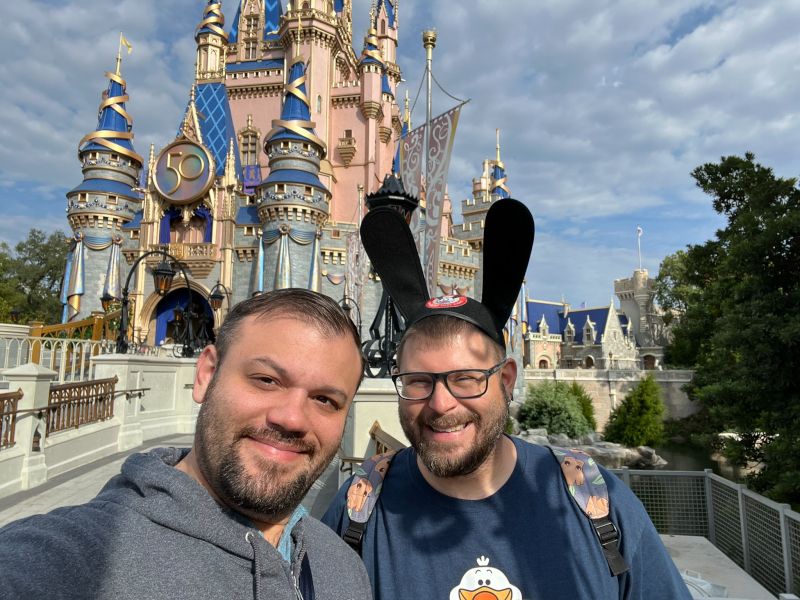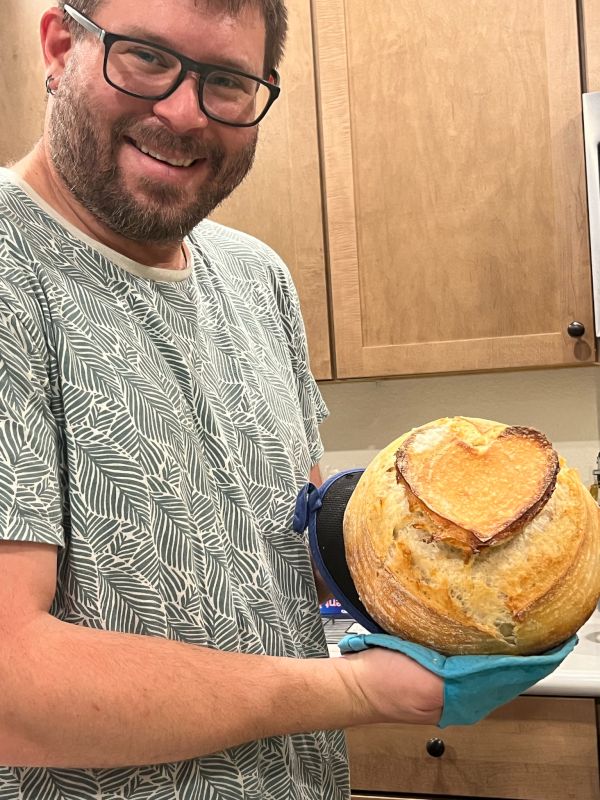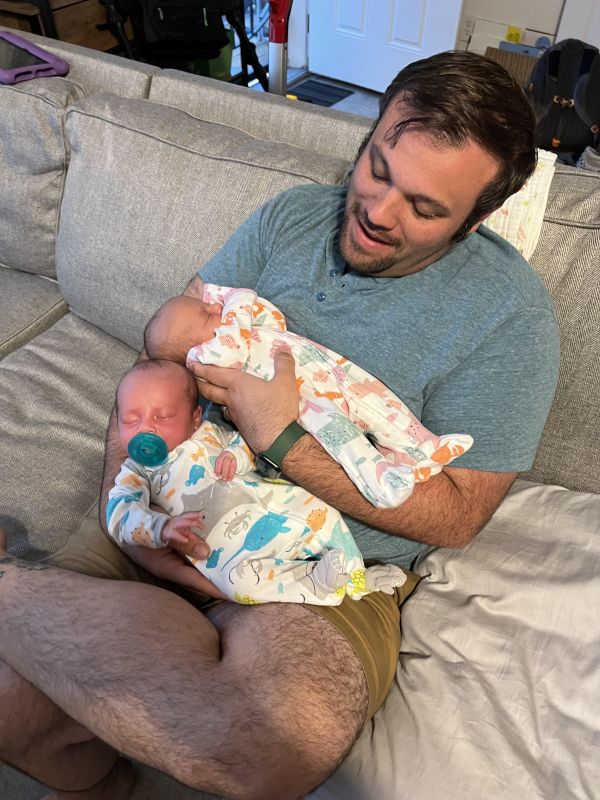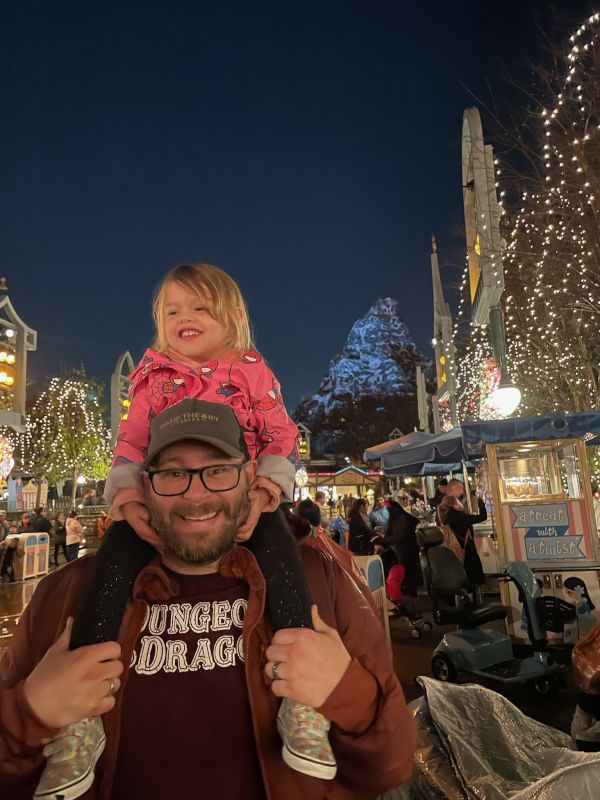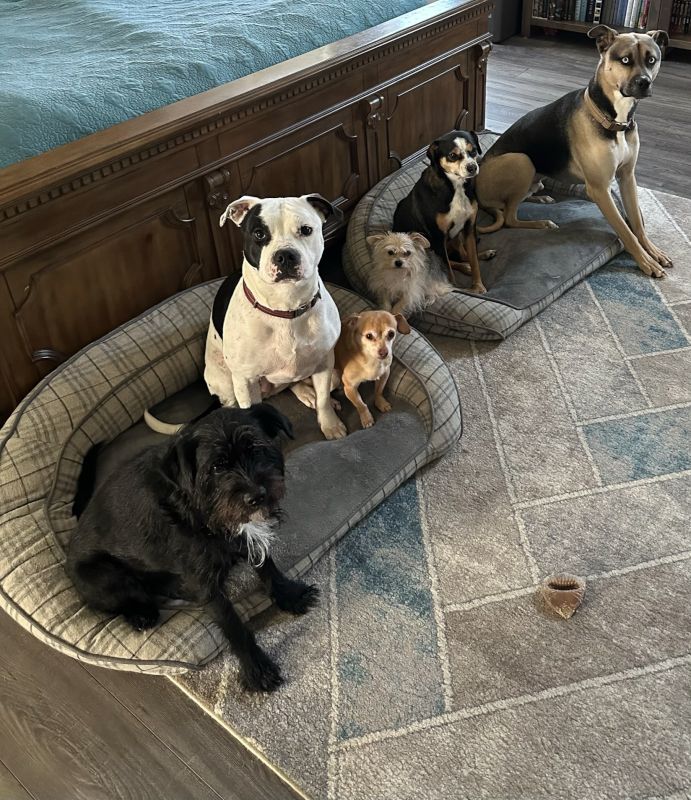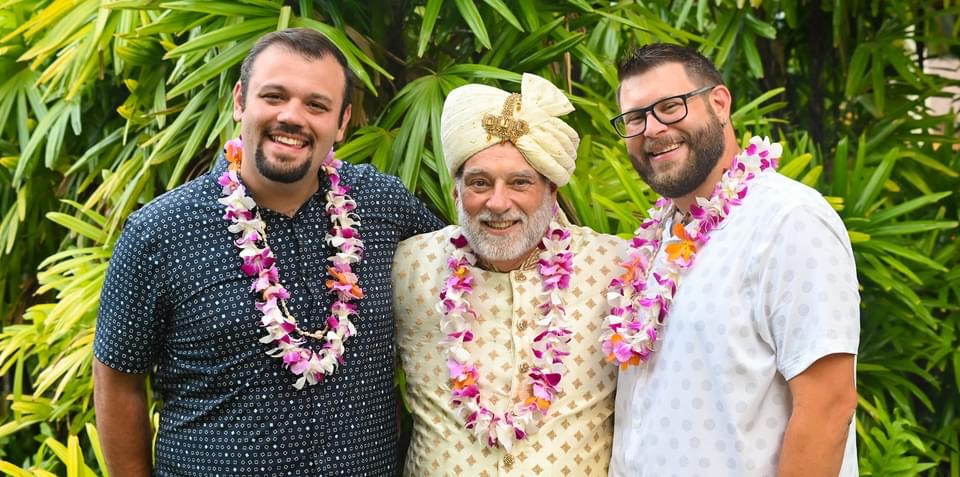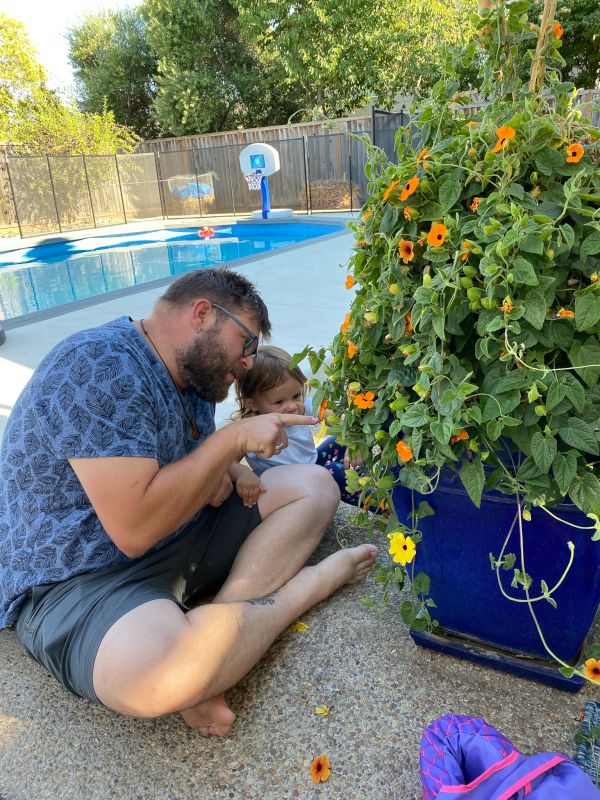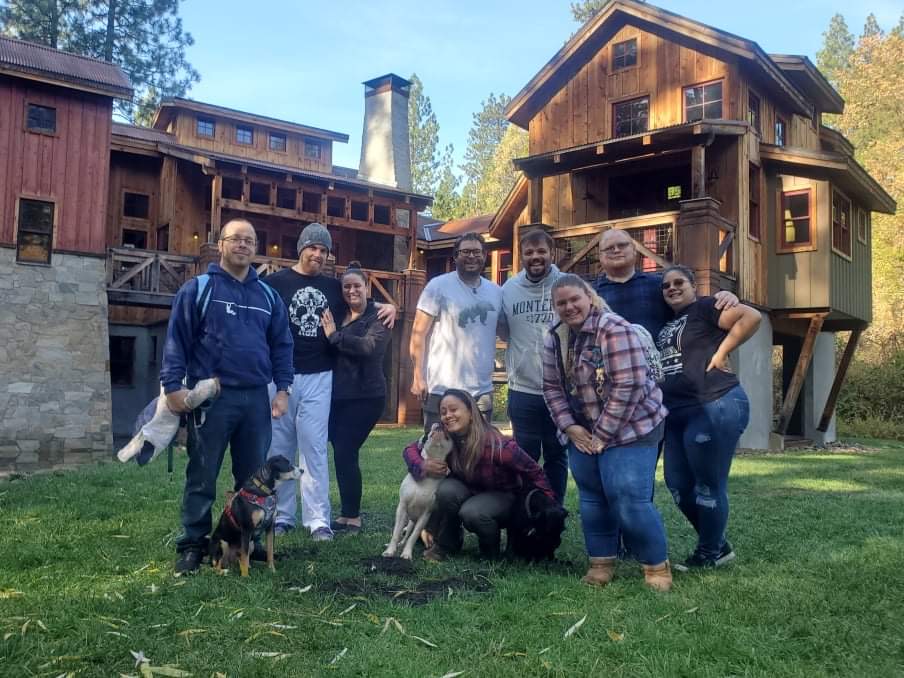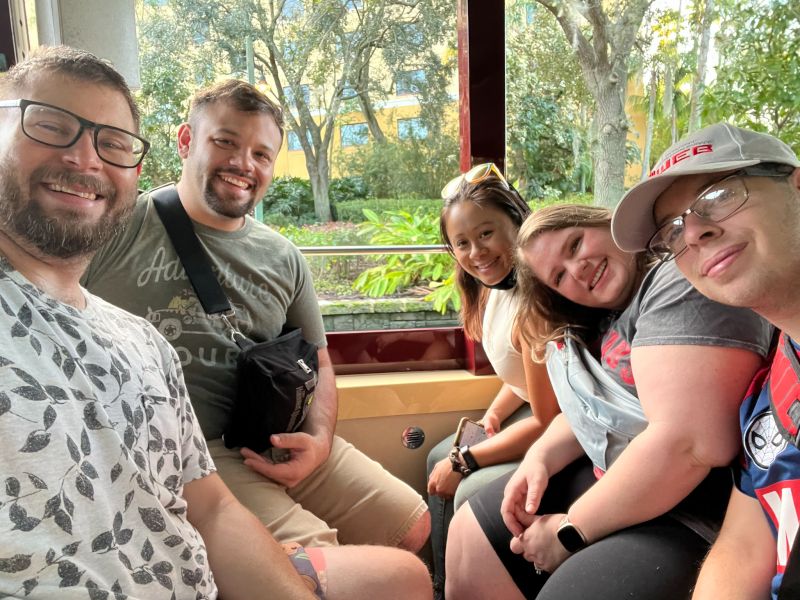 ×
1 / 12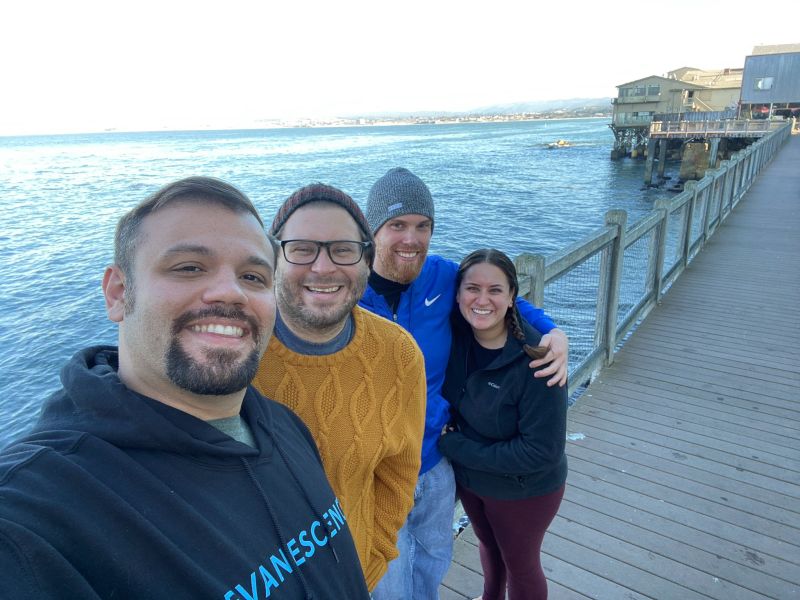 2 / 12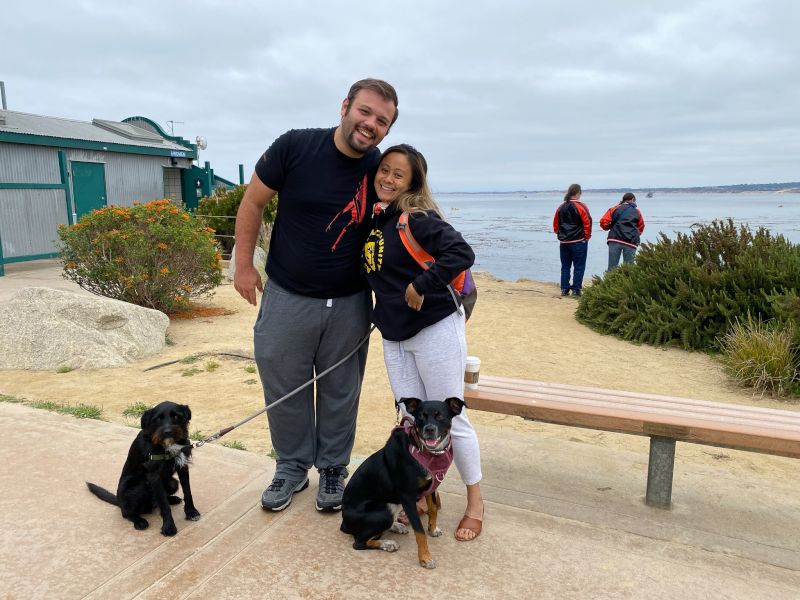 3 / 12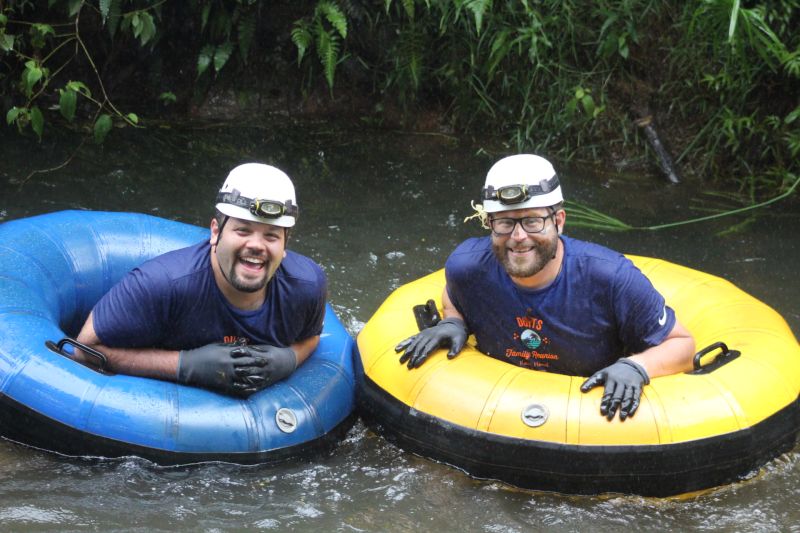 4 / 12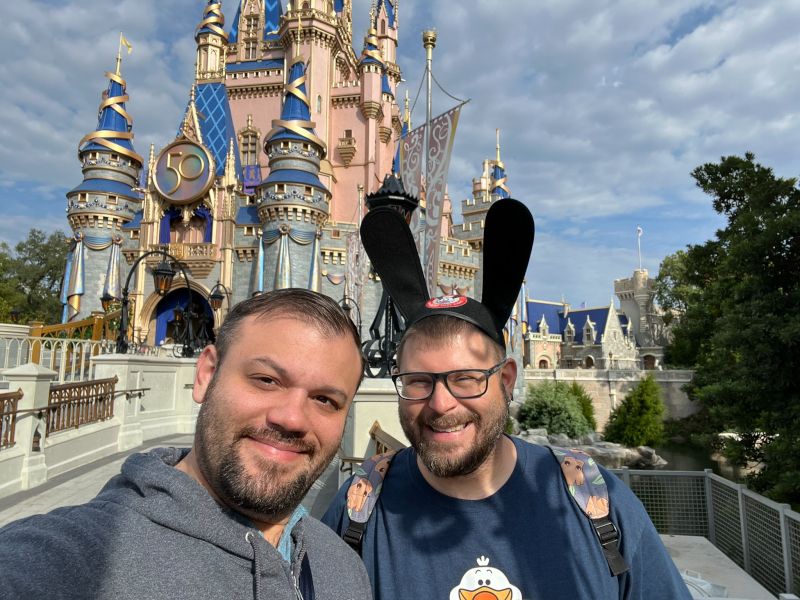 5 / 12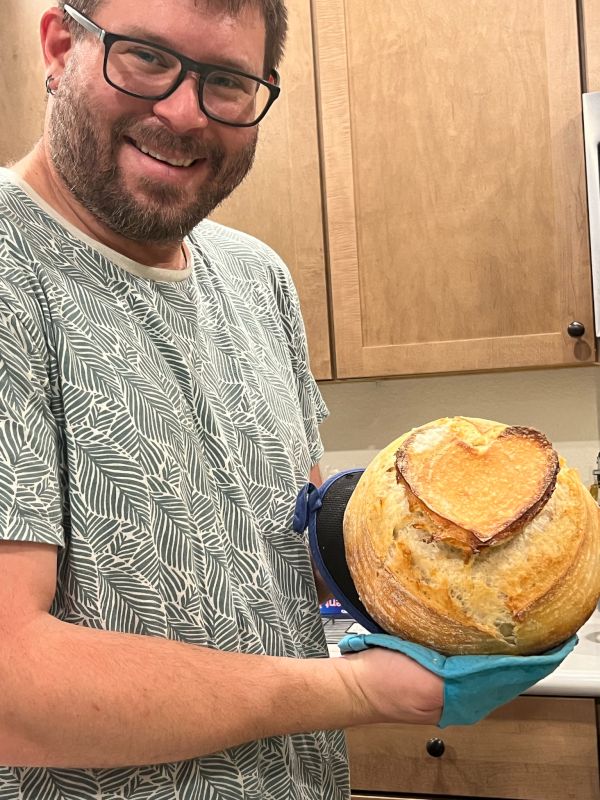 6 / 12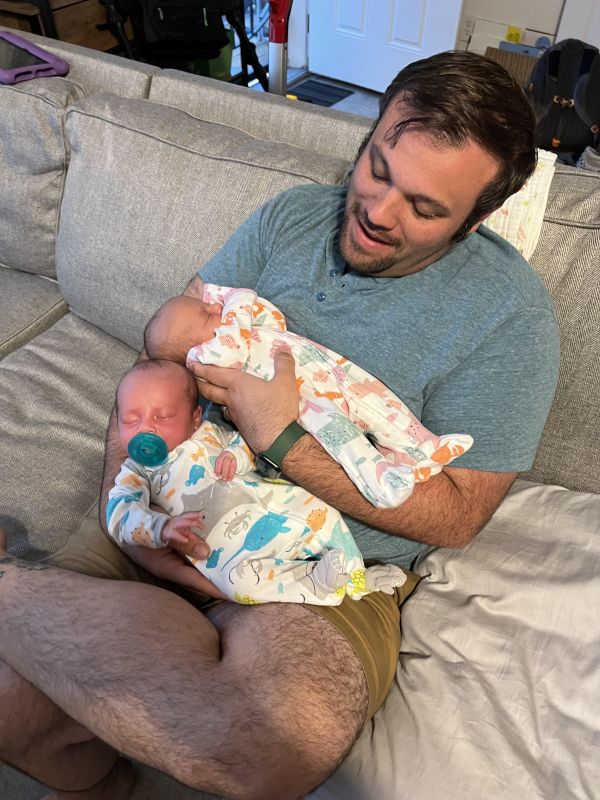 7 / 12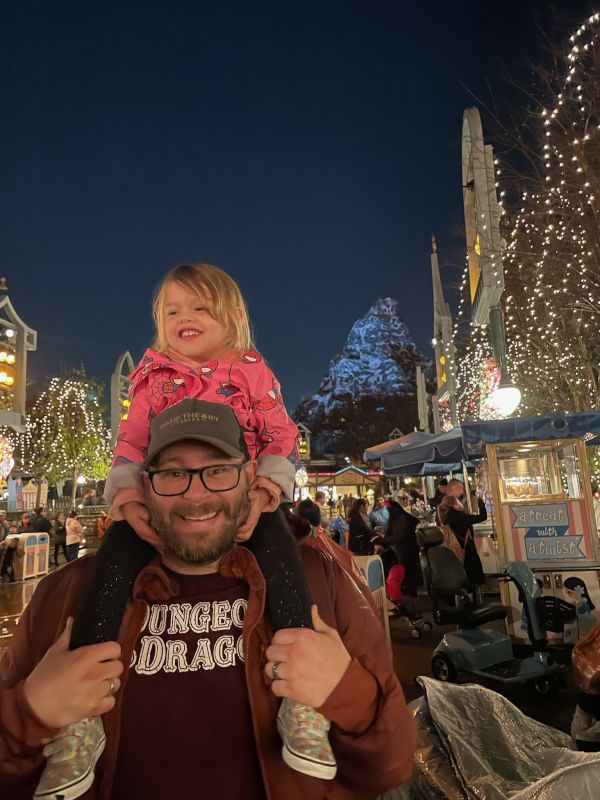 8 / 12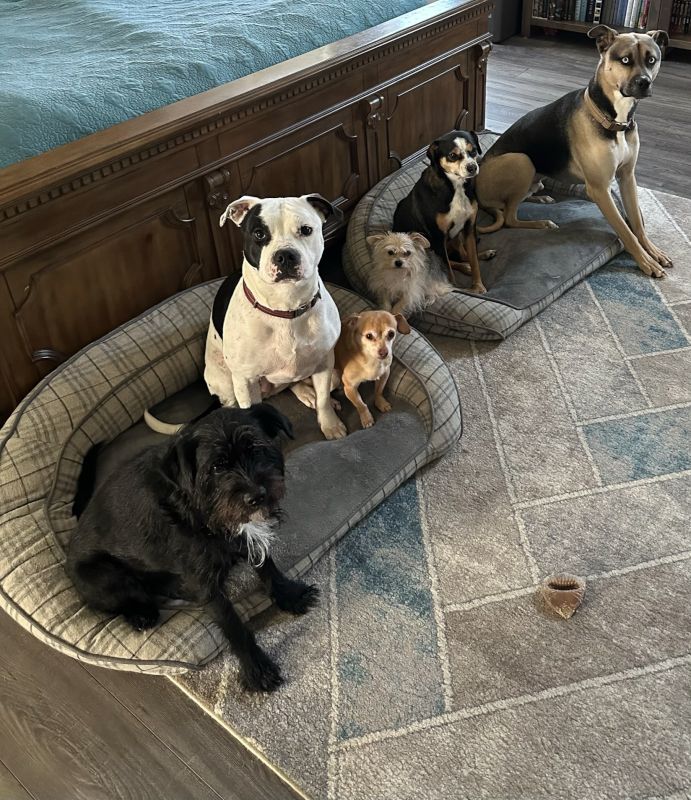 9 / 12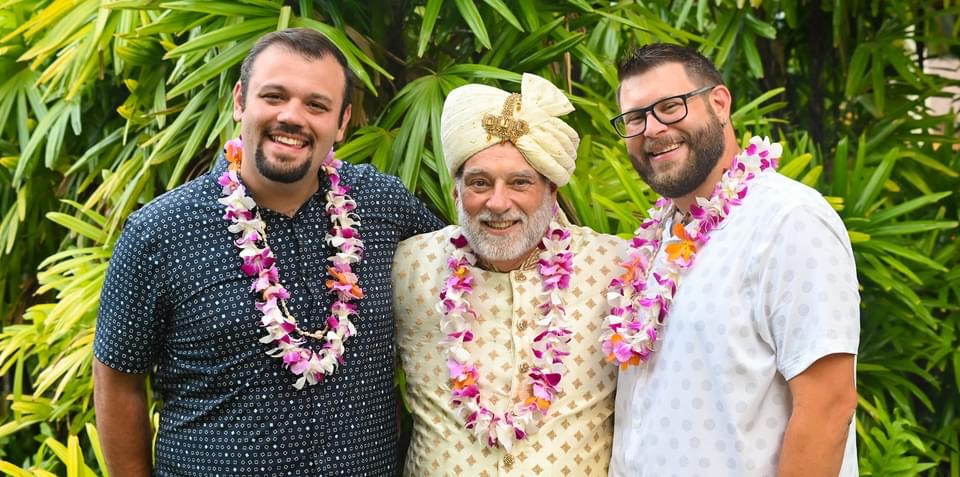 10 / 12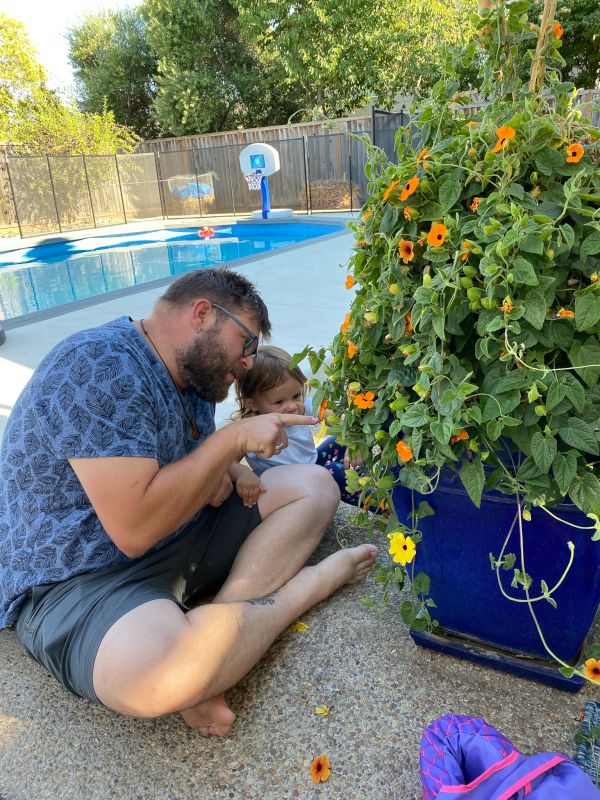 11 / 12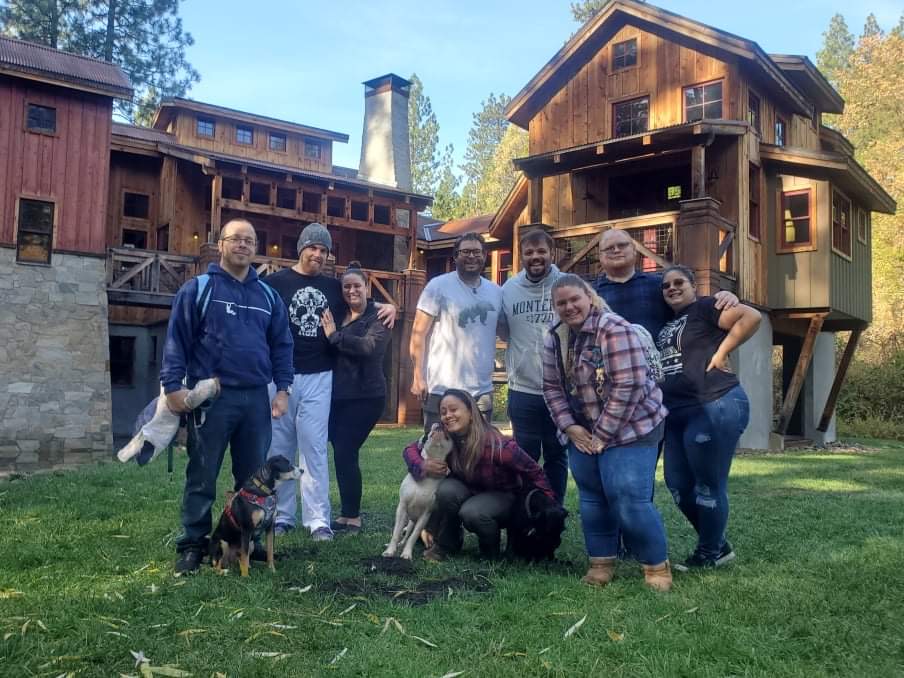 12 / 12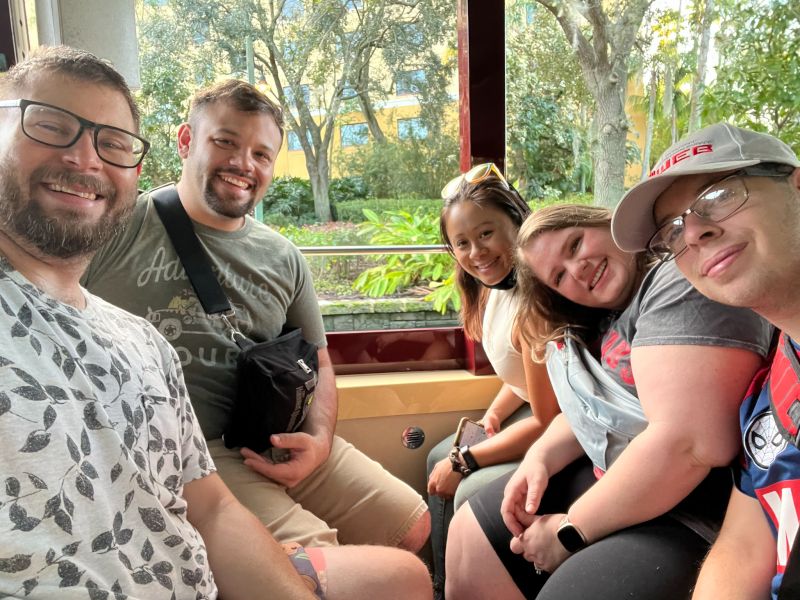 ❮
❯
Our Extended Families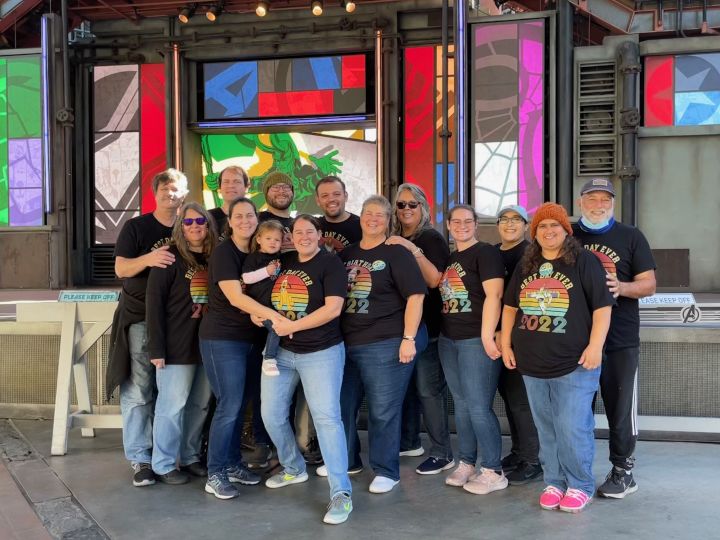 We have some of the most supportive and diverse collection of relatives and chosen family that make up our extended family and community. Dustin's family is very tight-knit and our immediate family all lives fairly close together, which allows us to get together for BBQs, movie nights and holidays easily and often. His mom and her wife love to host the whole family at their house and enjoy their pool during the hot summer months. Dustin's sister, her wife, and their kids join in, and even his dad, step-mom, and sister-in-law's family get into the mix occasionally! We travel for big holidays to Dustin's aunts and uncles out of town for even larger family gatherings.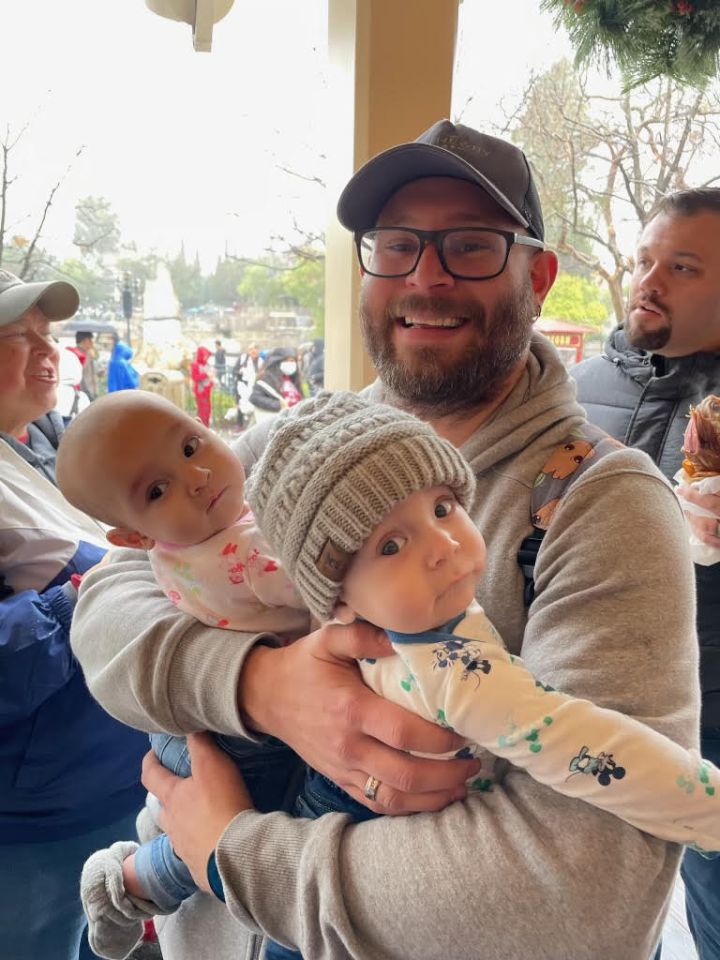 Michael has a mix of family who are near and those who live out of state. His parents and younger brother live very close while his older brothers and their wives and kids live in Utah. Although we only occasionally get to spend time with Michael's side of the family, some of his most cherished memories are seeing movies and laughing with his younger brother Travis, or visiting his family in Utah when they can with his dad.
Lastly, some of the most memorable moments we have are with our extensive chosen family we have built since high school. From experiencing our expanding families to witnessing milestones like weddings and anniversaries we always take a little time to gather around with a cup of coffee and celebrate life with our beloved pets and friends.
Our House and Neighborhood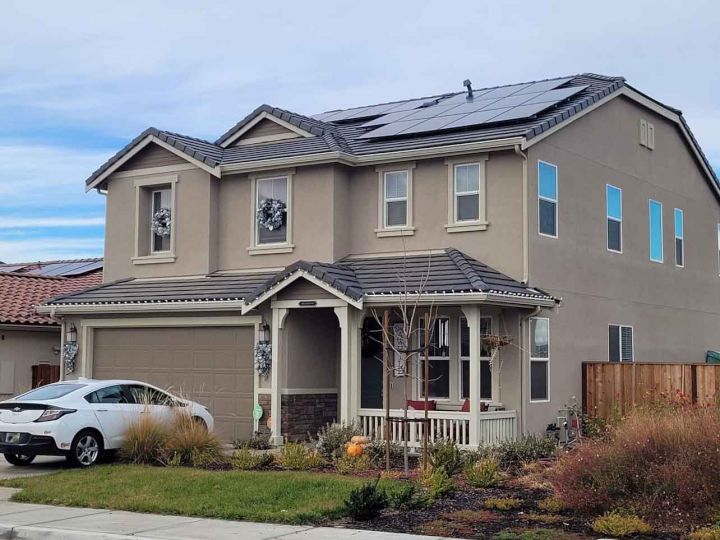 We are both extremely fortunate to have grown up in the Greater San Francisco Bay Area of California where diversity and acceptance are a huge part of our daily lives. Through lots of hard work and careful planning, we have been able to buy our first home in a semi-rural, semi-suburban, small but growing town in Northern Central California. Our two-story, five bedroom home (with a common loft area upstairs that we love to watch movies and play video games in with each other and our family and friends) is in a neighborhood of new homes that are full of families with kids of all ages and has a huge new park being built less than a block away from us! We love living in this area not just because of our diverse immediate community full of growing families and supportive neighbors, but also because we are always within a day's drive to so many of northern California and neighboring states' micro-climates and tourism spots (including the Monterey Bay Aquarium that our sister and her wife have passes to, as well as Disneyland!).
There are endless amounts of activities of all varieties that we can be a part of from cultural festivals to traditional holiday events that have been around for years! Everyday we are discovering something new that we fall in love with in the town we live in, including annual harvest festivals, local community organizations, and family-focused events like parades and other downtown events.
From Us to You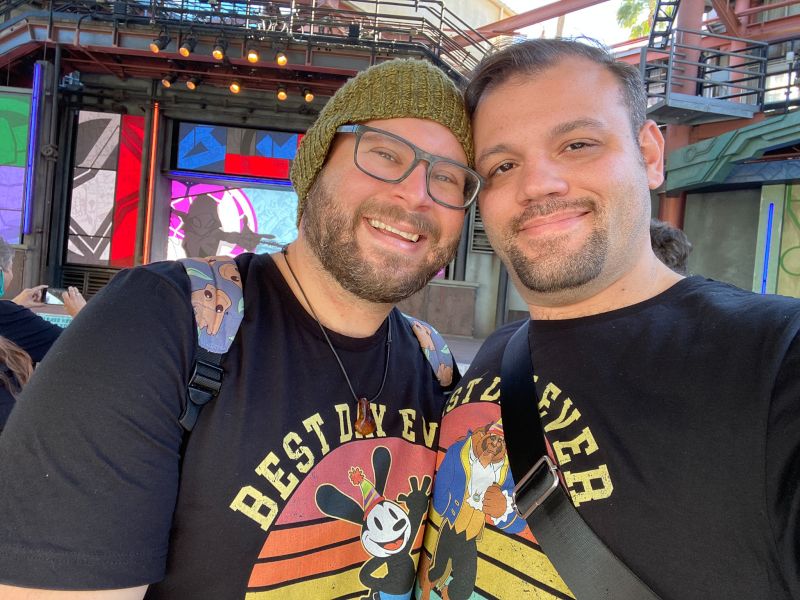 We are so deeply honored that you took part of your precious time to view our profile and consider us as the parents of your child. We understand that this is a difficult and emotional time and that you may have many things demanding your attention. Just the fact that you chose to spend some of that time on our profile makes us so grateful.
We have waited and saved and planned and built a life together during the past 17 years in a way that would now seamlessly and near effortlessly support a child. We are in an amazing place physically, emotionally, and financially to grow our family and provide everything a child could wish for. Not only are we a couple of fun-loving and just plain loving guys, but we have an incredible network of family and friends who cannot wait to support us in raising a child. We have children in our family of all ages to grow up with as well as plenty of doting aunts, uncles, grandmas, grandpas, and so on.
We know that our little zoo may seem daunting at first, but with Dustin working in the veterinary field and Michael having grown up with challenging dogs and being an amazing planner, leader, organizer, and cleaner, we could not have wished for a better environment for raising a well-behaved, well-trained, devoted, cuddly, and child-loving pack of dogs and cats. We cannot wait for our pets to be awesome protectors and companions for this child as they grow up; cuddle-buddies when they are getting snuggled into bed, a comforting wet nose when they are sick, a furry shoulder to cry into when they are sad and just need a big fuzzy hug. Our younger dogs will be there for all of their firsts and grow up with them as another source of unquestioning love and support in their lives.
We ecstatically look forward to sharing so many experiences with our future child. We think back to some of our most treasured memories growing up, like Michael's family having season tickets to theatres in San Francisco when he was younger and Dustin going to some of those same shows in the city with his high school drama troupe. We cannot wait to share our love for theatre with our future child and have family season tickets to theatre shows or take them to concerts that they want to experience. We look forward to providing a sense of balance in all things--we are just as likely to sit and play video games on a weekend day as we would be to have a house cleaning dance party, read some good books, or work on homework together. We will provide structure, but give them ample room to learn and grow and be themselves, and to express that in any age-appropriate way they feel safe to do so. Most of all, we will always stress the importance of being a good, compassionate person in their every day life and how to take pride in themselves for who they are and where they come from.
There are no words that we could give to make what you are going through any easier. We understand that this is not an easy choice, but we will be there for you if you choose us as the next family to love and raise your child. We are committed to maintaining contact with pictures and letter updates to you, as well as working closely with you and our adoption and your birth mother specialists in the time leading up to your birth to plan out any additional contact that we collaboratively feel would be beneficial. We will be forever grateful that you gave us this opportunity, and there will never be any question that you are their birth family and will always be a part of their life.
Thank you so much once again, and we hope to hear from you very soon!
Michael & Dustin
Favorites
Actor
David Boreanaz
Nathan Fillion
Actress
Caitriona Balfe
Kristin Chenoweth
Animal
Dogs
Red-Tailed Hawk
Author
Diana Gabaldon
Mercedes Lackey
Book
The Outlander Series
Queen of the Damned by Anne Rice
Cartoon
Pokemon
Legend of Vox Machina
Childhood Memory
Dinosaur Museum Visit
Going to the San Francisco Zoo and seeing the Pink Flamingos, they were my favorite
Childhood Toy
Jurassic Park Dinosaurs
Crash Dummies
Children's Book
The Stinky Cheese Man
The Hungry Hungry Caterpillar
City
Seattle
Ashland, Oregon
Classic Movie
Halloween
The Court Jester or Clue
Dessert
Apple Tart
Chocolate Malts or Rice Pudding
Disney Movie
Beaty and the Beast
Bedknobs & Broomsticks
Dream Car
Grand Highlander
Tesla
Dream Job
Paleontologist
Wildlife Rehabilitator
Dream Vacation
Scotland
Scottish Highlands
Family Activity
Hosting BBQs and Going to Disneyland
Game Nights
Flower / Plant
Japanese Maple Trees
Orchids and Dahlias
Form of Exercise
Hiking
Hiking
Fruit
Strawberries
Pineapple
Game
Monopoly
Dungeons & Dragons
Hobby
Gaming
Too many to name, so...Collecting Hobbies!
Holiday Song
Wrapped in Red by Kelly Clarkson
Carol of the Bells or O Tannenbaum
Holiday Tradition
Making Dustin's Grandma's recipe
Making my great grandma's recipe for Pfeffernusse
Ice Cream
Mint Chocolate Chip
Chocolate Malted Crunch
Junk Food
McDonalds
Taco Bell
Leisure Activity
Reading
Lounging in a hammock with one of the pups
Magazine
National Geographic
Amateur Gardening
Memory with a Child
Going with our friends and their kids to the Academy of Science in San Fransisco
Going to Disneyland with our nieces and nephew, as well as another trip with our godson Jonah.
Memory with Spouse
Going to the San Diego Zoo
Staying in Amador City for our anniversary several years ago
Movie
Jurassic Park
Monty Python and the Holy Grail
Movie Munchie
Popcorn
Chocolate Covered Raisins
Movie Quote
Life finds a way (Jurassic Park)
I killed Yvette. I hated her SO much (Clue)
Movie Type
Horror
Horror and Suspense
Musical
Phantom of the Opera
Les Miserables
Musical Group
Evanescence
Scissor Sisters
Nursery Rhyme
Mary Had A Little Lamb
Old McDonald Had A Farm
Olympic Event
Tennis
Ice Dancing
Personal Hero
Berne Brown
Betty White
Play
Ordinary People
Rosencrantz and Guildenstern Are Dead
Poet
Edgar Allan Poe
Walt Whitman
Quality about my Spouse
His Enthusiasm
His ability to meet anyone where they are in life and support them how they need support.
Quote
Life is like topography, Hobbes. There are summits of happiness and success, flat stretches of boring routine, and valleys of frustr
Sandwich
Italian Sub
Chicken Philly Cheesesteak
Shopping Store
Best Buy
Any Garden Store or Nursery
Song
Simple and Clean by Utada
Too many to choose!
Sport to Play
Badminton
Archery
Sport to Watch
Tennis
Hockey
Sports Team
San Jose Sharks
San Jose Sharks
Subject in School
English
Drama or Agriculture
Superhero
Batman
Nightcrawler
Thing to Cook
BBQ Tri-Tip
Currently, Chicken Pho and Oi Muchim (a Korean Cucumber Salad)
Time of Day
Evening
Late Night
Tradition
Yearly Cabin Trips
Cooking Chicken Noodles Romanoff (or anything from my cookbook handwritten by my grandma for me)
TV Show Character
Claire Fraser from Outlander
Type of Music
Pop
Showtunes and Country
Vacation Spot
Hawaii
Disneyland
Video Game
Resident Evil
Dragon Age: Inquisition
Get in Touch
Provide more information, so American Adoptions can connect you with this family.
---